Halifax JB926
‹ Return to RAF Crash Sites 1942 – 1945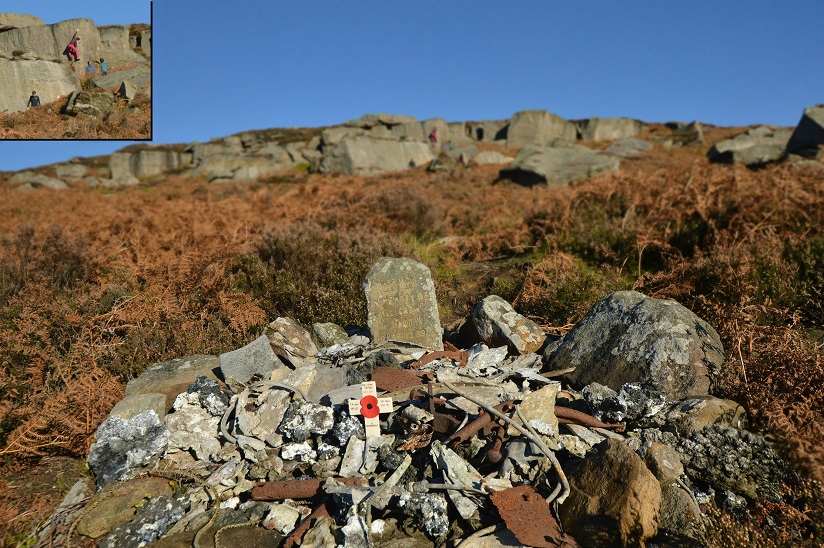 Halifax JB 926
Halifax JB926 crashed on the night of November 23 1943 with the loss of all on board. Photo above shows the pool of remaining fragments with the memorial stone. Beyond are the crags, popular with climbers.
Grid reference SE 139 819 (just by the climbers' path to the crags)
The aircraft took off from RAF Ricall on a navigation exercise along with another 5 of 1658 Heavy Conversion Unit's 32 Halifax bombers.
The cause of the crash was the build up of ice on the airframe; the aircraft had started to break up in mid air and plummeted to the ground killing all crew instantly.
Of the 6 Halifax bombers of 1658 HCU in the air that night, DT578 also crashed on Great Whernside (about 10 miles from Slipstone Crags) with the loss of all on board in similar circumstances, while DT541 managed to land back at RAF Riccall but swung round on the ground, crashed and caught fire. All of DT541's crew managed to escape.
CREW
Sgt Richard Ernest Charles Bacon RAFVR, Pilot
Sgt George Heathcote Manley RAFVR, Flight Engineer
Sgt James Titterington RAFVR, Flight Engineer
F/O Henry McCarthy RAFVR, Navigator
F/Sgt John James MacGillivray RCAF, Bomb Aimer
Sgt Basil Frank Taylor RAFVR, Wireless Operator / Air Gunner
Sgt Alexander John Winton RAFVR, Air Gunner
Sgt David Elwyn Phillips RAFVR, Air Gunner
Below; Crash site of Halifax DT578 on Great Whernside.