USAAF pilot who crashed (and survived) twice within a fortnight
11 December 1943. USAAF ferry pilot Second Lieutenant Guy A Senesac was delivering a P-38J Lightning to its operational fighter base at RAF King's Cliffe near Peterborough, flying from the air force depot at RAF Warton, a distance of about 120 miles.
Roughly half way into the flight the starboard engine cut out. 2nd Lt Senesac was at about 1,000 feet and as he attempted to restart the engine, the P-38 lost height. He put full power onto the port engine, hoping to make it to the first airfield he came across but the strain on that one engine caused it to overheat till it too failed.
According to his report, 2 Lt Senesac spotted a field below Cronkston Low and decided to crash land the aircraft (a witness on the ground, a Mr Alan Grindy, said in an interview with Pat Cunningham in 2006 that the aircraft was actually on its second orbit of the field when it crashed).
Cunningham cites the pilot in his report; "My altitude was only two hundred feet at this time and I just had time to turn into the field and land wheels up. I hit the ground at 150 mph, slid about 100 yards and crashed into a stone wall"
He just managed to get out of the cockpit and away from the wreck before the aircraft burst into flames. He ran uphill, leaping across walls and urging those locals first on the scene – his would be rescue party – to take cover as the ammunition began to go off in the fire.
BELOW The field in which 2nd Lt Senesac crash landed his fighter. The wall circled is where the Lighting came to a halt and burst into flames.
Eleven days later, 2nd Lt Senesac was flying another P-38J from RAF Warton, again delivering it to the same base near Peterborough.
The weather conditions were worse than expected and suddenly finding himself flying in cloud and off course, Second Lieutenant Senesac decided to abort the journey and turn around.
However, his nerves after the previous crash got the better of him, and having to suddenly depend on flying on instruments in thick cloud, he panicked and lost control of his aircraft.
The altimeter told him he was just six hundred feet above the ground so he tried to climb but he reported later that the needle on the altimeter showed he was somehow losing height. With no time to think more about it, 2nd Lt Senesac bailed out.
The canopy of his parachute just had time to open before he struck the ground near the top of Merryton Low, about 800 metres from where his aircraft dived into the ground.
BELOW Trig point on Merryton Low looking towards the spot where 2nd Lt Senesac landed with a bump. The plaque on the trig point has nothing to do with the crash, it is an unusual memorial to 4 local men killed during the war.
BELOW My attempt at a map showing the two crash sites just 5 miles apart.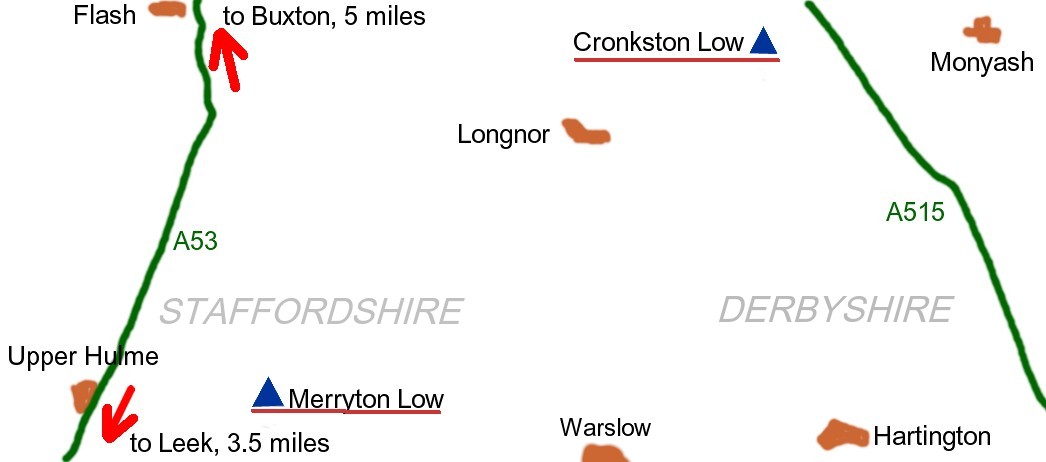 Google map of this part of the Peak District
His career after this second crash is not known but the investigation report seems to have been more gentle with him than the first, attributing the second crash to nerves after the first.
There is not much to be seen at either site now. Photos taken on Merryton Low a few years ago show a small circle of stones with some scraps of debris remaining but the stones have been kicked about and I found just one lump of molten metal in the long grass nearby. Cunningham reports some debris found at the site near Cronkston Low.
BELOW The spot where the P-38 crashed, the one lump of debris I found is on the map.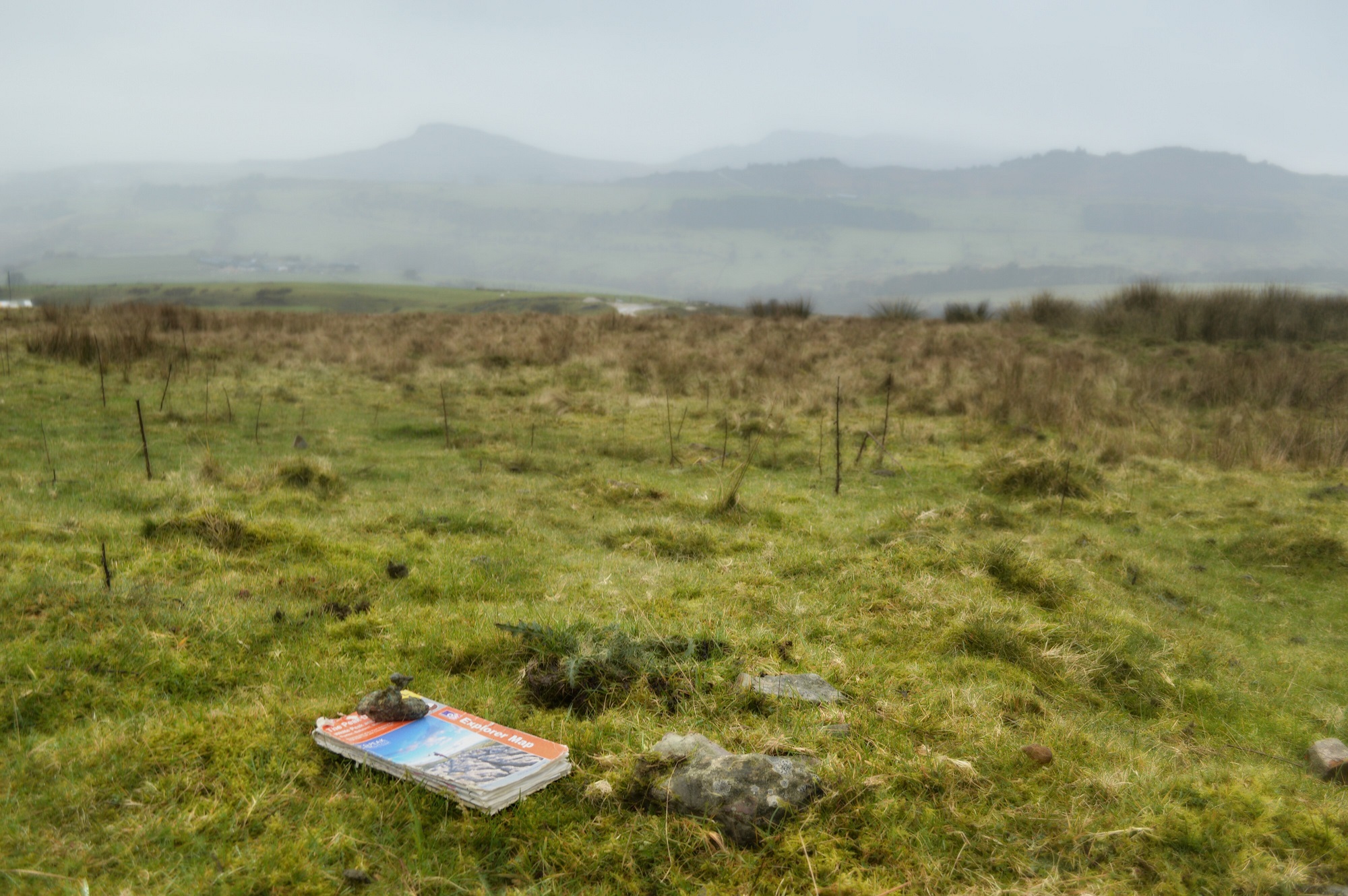 All details and quote above are from Pat Cunningham's books 'Peakland Air Crashes – The South' (2006) and 'White Peak Air Crash Sites' (2012)
The two aircraft were close in serial numbers too, the prefix numbers '42' representing the fiscal year of 1942 and the numbers that follow the prefix represent the order in which the aircraft were purchased. The list below from Joe Baugher shows the P-38 Lightnings ordered – and what happened to them – between the two that crashed, 42-67480 and 42-67670.
The reference to 'Black Sunday' is with regards 'Operation Tidal Wave', a raid in which 53 USAAF aircraft and 660 airmen were lost attacking oil refineries at Ploiești in Romania.
Also note P-38 42-67543 "California Cutie" (photo below) which crashed at the Flying Legends Airshow at Duxford in 1996 with the loss of pilot Michael Bryan Proudfoot. News report of the crash;

At 16 seconds in, the camera pans past a P-51D Mustang on the ground – Big Beautiful Doll, which was lost in a crash at the Flying Legends Airshow in 2011, the pilot fortunately like Second Lieutenant Senesac, bailing out at the last instant and surviving the crash. The Mustang alas didn't survive.
BELOW Photo of P-38 from wikipedia commons of P-38J 42-67543 "California Cutie" which crashed in 1996
Details below courtesy of joebaugher.com
42-67480 (310th Ferry Squadron, 27th ATG) crashed Dec 11, 1943 due to
failure of both engines near Cronkstone Grange between Buxton and
Ashborne, England in the Peak District. Aircraft struck a
wall at the end of the field, caught fire, and was destroyed.
Pilot OK
67484 (20th FG, 55th FS) lost Jan 29, 1944, Rougham AB, UK.
67485 seen in a scrapyard near Blackpool, UK in 1963.
67488 fitted with Rolls Royce Merlin engines by Rolls Royce at
Hucknall, England May 1944. Performance greatly improved
but project stopped by authorities in Washington.
67489 (20th FG, 55th FS) crashed on takeoff at Kingscliffe,
UK Dec 31, 1943. Pilot killed
67490 (c/n 2001) on civil registry as N138BB
67494 (55th FG, 38th FS) developed fuel leak on takeoff, fuel
poured into supercharger, caught fire, and plane crshed
at Nuthampstead, UK Dec 26, 1943. Pilot unhurt.
67498 lost control and crashed near Walsham le Willows, UK
Dec 30, 1943.
67520 (55th FG, 38th FS) lost Hulst, Netherlands Jan 24, 1944. MACR 2111. Pilot POW.
67529 to F-5C-1-LO
67530 to F-5C-1-LO
67531 to F-5C-1-LO
67532 to F-5C-1-LO
67534/67542 to F-5C-1-LO
67543 to F-5C-1-LO. Recovered from Yukon, OK and reported
ca 1987 stored at Chino for restoration. On civil registry as N3145X. Went to
The Fighter Collection at Duxford, England but retained registration NX3145X. Crashed Jul 14,
1996 during an air show at Duxford, killing the pilot. Still current as N3145X
67544/67550 to F-5C-1-LO
67550 (7th PRG, 27th PRS) crashed on takeoff at Mount Farm,
England Sep 8, 1944.
67552/67565 to F-5C-1-LO
67566 to F-5C-1-LO
67567/67569 to F-5C-1-LO
67569 (10th PRG, 31st PRS) crashed at Brighton, England
Jun 8, 1944
67572 (F-5C-1-LO) crashed near Rush Springs, OK Jan 14, 1944.
Pilot killed.
67573/67577 to F-5C-1-LO
67574 to NX49721 1946. Race #51 'Connie Special' then race #64 'Jill' and race #63. Canx Nov 28, 1955.
67586 (475th FG, 432nd FS) shot down by fighters Apr 3, 1944
near south end of Sentani Lake
67589 (475th FG, 432nd FS) damaged on ground by P-40 at end
of Hollandia strip May 29, 1944.
67593 (475th FG, 432nd FS) crashed Jun 11, 1944. Pilot killed
67594 (432nd FS, 475th FG) MIA near Bogadijm Apr 16, 1944 during
infamous Black Sunday mission to Hollanida
67599 crashlanded 5 mi off Cape Waios Jul 27, 1944.
67601 (475th FG, 432nd FS) crashlanded Hollandia Jun 1944
67605 (432nd FS, 475th FG) MIA near Bogadijm Apr 16, 1944 during
infamous Black Sunday mission to Hollanida.
67614 (474th FG) crashed at Cheselbourne, UK May 21, 1944. Pilot killed.
67638 crash-landed on Buldir Island, Alaska in 1944.
Recovered in 1994 by Hill AFB Museum, and is now
on static display there.
67639 (479th FG, 434th FS) crashed 5 mi NE of Lomita Flight Strip,
CA Mar 12, 1944. Pilot killed.
67646 (20th FG, 79th FS, "Kentucky Kernel") lost Hengelo ((), Netherlands
Jan 30, 1944. MACr 2102. Pilot POW
67650 (55th FG, 38th FS) lost May 5, 1944 15 mi S of Kiel,
pilot POW. MACR 1746
67653 (474th FG) lost Dec 27, 1944. MACR 11469
67655 (554th FTS) converted to 2-seater.
67659 (474th FG) lost Jun 10, 1944. MACR 5690
67661 (20th FG, 55th FS) lost Jan 24, 1944. MACR 2104
67662 (474th FG) lost Jul 14, 1944. MACR 7052
67663 (474th FG) lost May 22, 1944. MACR 4960
67665 (20th FG, 79th FS) lost Jan 29, 1944, Laudert. Pilot KIA. MACR 2100
67667 (55th FG 38th FS CG-D) while on a ferry flight to Duxford Feb 10, 1944 from 78th FG 84th FS struck British field vehicle killing the driver.
42-67670(310th Ferry Squadron, 27th ATG) crashed at Strines Moor, near Leek,
Derbyshire, England Dec 22, 1943. Pilot bailed out after
losing control in cloud. This was second P-38 lost by the
same pilot in 11 days. The other was 42-67480.
Map in lead image from iTraveluk