Gloster Meteors WH383 and WH384, Edgworth, Lancashire.
Revisit to a crash site near Edgworth in Turton, Lancashire following a tip off that there was what appeared to be some aircraft debris in Red Brook. Red Brook is at the back of Holcombe Hill (and just up from the MOD Training Camp where the Krypton Factor assault course was recorded). It was possible someone had carried remains over from the crash site and dropped them near the top of the brook, which is 1.5km from the crash site. Having previously been advised of there being no visible wreckage at this crash site, we decided to take a look with the plan of walking from the impact point towards Red Brook. We found debris but long before we reached Red Brook and never in fact investigated the place where there was a bit of aluminium panel reported. A thorough search of the wall as well revealed some fragments of debris. The largest piece, found some distance from the impact point, has so far not been identified (we have spoken with former pilots of Meteors and crew who worked on them). It was very heavy and appears to be a counter weight, possibly from the aileron balance tab but we are unsure? Have looked at cutaway diagrams but cannot see anything quite like it. The other fragments (nothing as large as the piece pictured here) were found mostly in the wall which the aircraft struck. The debris was left by the wall.
______________________________________________________________________
Two Gloster Meteors of the RAuxAF crashed here while on exercise from their base in Cheshire on November 14th 1953. Presumably flying in formation and in low cloud, the two jets destroyed the stone wall as they flew into the hillside. Both pilots, Flight Lieutenant Anthony Basil Mercer and Flying Officer Arthur Michael Fletcher, were killed instantly.
The Royal Auxiliary Air Force is like the Territorial Army, civilians trained to support the RAF. 24 year old Flying Officer Fletcher was a development officer in civilian life, for instance. These Meteors were of 610 squadron, which had seen extensive action in the Battle of Britain before the squadron returned to its home in Cheshire, and their Spitfires were replaced with Gloster Meteors.
Below; The two aircraft in formation struck the wall on Scholes Height leaving two clear gaps in the stone wall.

Below; as yet unidentified debris. It was very heavy, possibly a counter weight?
Photo below courtesy of Military Aircraft Crash Sites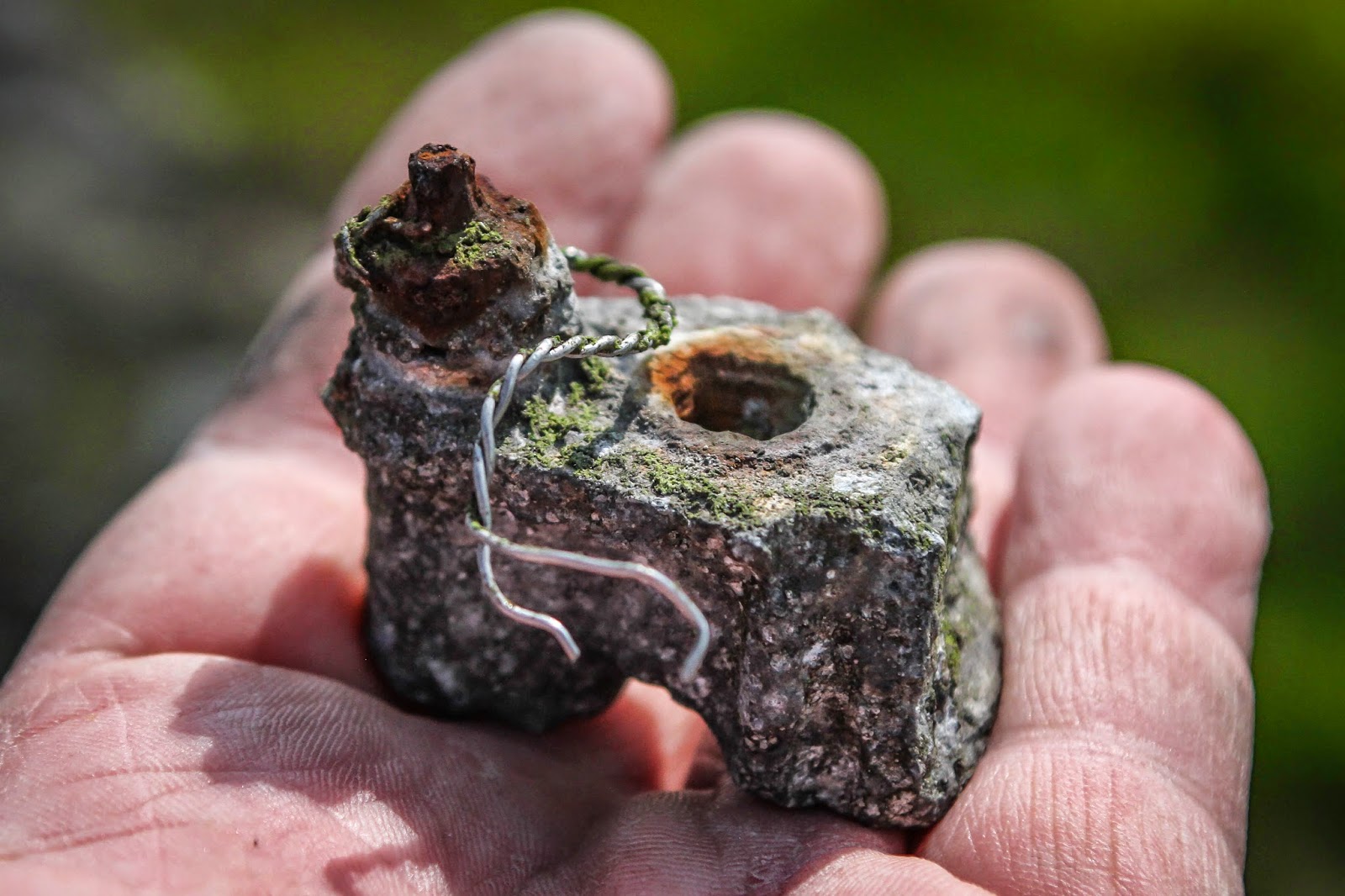 Photos below from visit May 2021. Debris found at the crash site, and looking up to the crash site above Crowthorn Farm.