German gun at Longues-sur-Mer battery, similar to the Villerville battery.
6 June 1944. My Dad was an Able Seaman aged 23 aboard the Royal Navy fleet destroyer HMS Fame.
HMS Fame was tasked with providing an anti-submarine defence and smoke screen around the 1913 built battleship HMS Warspite which was firing her 15 inch guns (with the exception of one turret which had been earlier damaged) at German gun emplacements near Le Havre.
HMS Warspite firing on German positions on D-Day

Warspite and the destroyer screen formed part of Bombardment Force D of the Eastern Task Force, with the destroyers also firing on the Germans. The tactic was a good one; the batteries unwisely entered into duals with the ships instead of directing their fire on the beaches.
The battery was above the village of Villerville. My Dad said he could clearly recall seeing civilians walking along the promenade as the shells whizzed over their heads, though how long they remained taking a morning constitutional is not known!
HMS Warspite was the first warship to open fire on German positions on D-Day.
My Dad recounted how it took a while for the German battery to return fire. Warspite left the scene and fired on batteries further along the coast before returning for another crack at the Villerville battery which was eventually destroyed.
HMS Fame

The other task the crew of HMS Fame had was taking casualties off the beaches and back to Portsmouth.
Photo of my Dad (on the left hanging onto the rigging) and some of the crew of HMS Fame, photo taken upon return to Liverpool following D-Day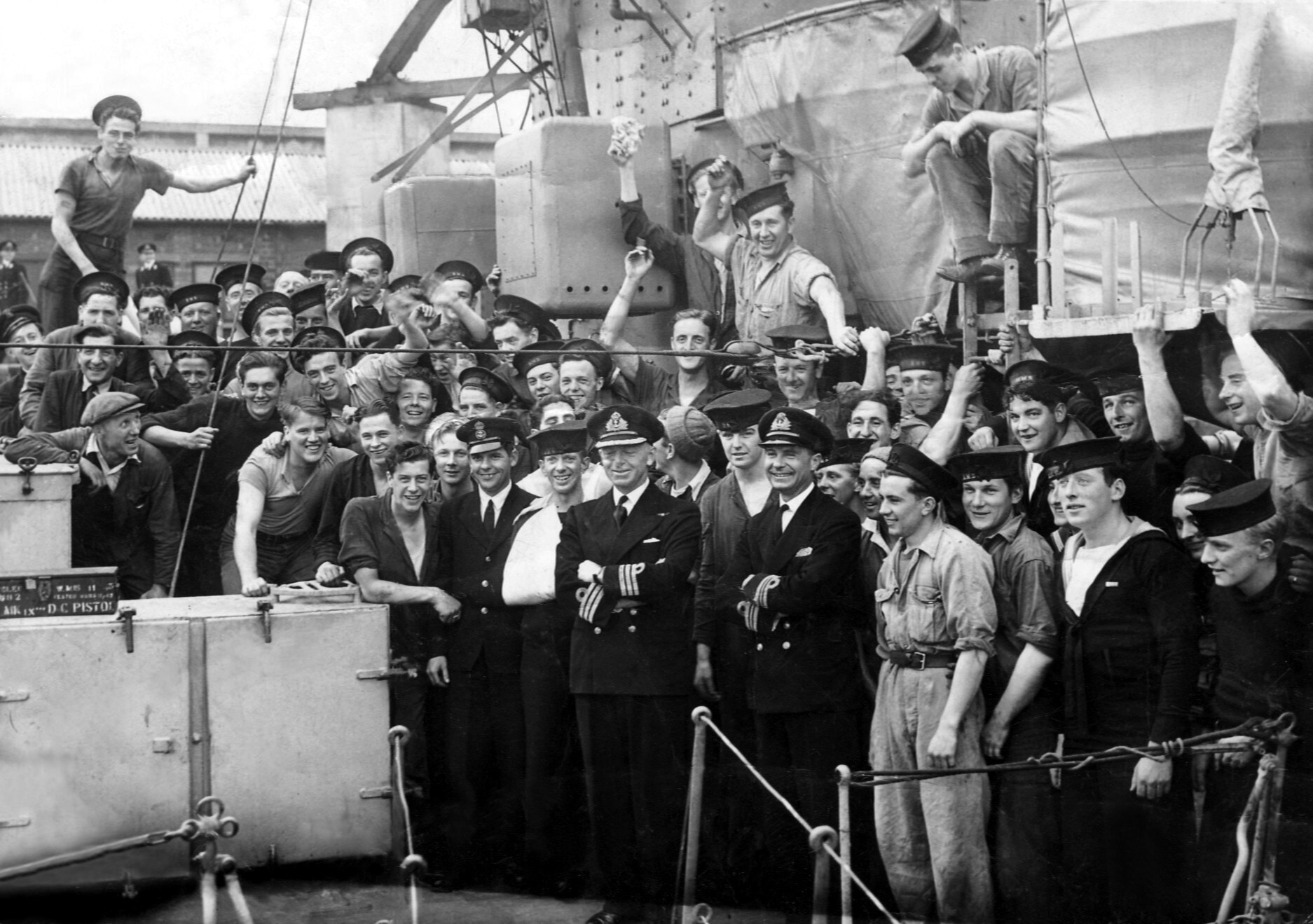 The only attempt by the Kriegsmarine to attack any of the Allied forces was when half a dozen E-Boats left Le Havre and dashed towards the destroyers around Warspite. The Norwegian destroyer Svenner was torpedoed and exploded, one witness saying the two ends of the ship folded like a pocket knife and sank immediately. Warspite turned on the attacking German boats and sent them fleeing back to Le Havre, sinking one in the process.
On 18 June 1944, HMS Fame trapped and sank u-boat U767 which had intended to attack the continued Allied landings at Normandy.
See here for more about the sinking of U767