Re; U-767
Photo of a U-boat (U-534) at Liverpool. It is not a night photo, was taken in broad daylight with a filter and then fiddled with afterwards. Using it to illustrate this account of the sinking of a U-Boat by HMS Fame in 1944.
My Dad was on Fame at the time, as was Ted 'Shiner' Wright along with 143 other crew and officers.
On its first patrol U-767 sank the Royal Navy frigate HMS Mourne off the Cornish coast with the loss of 110 men of a complement of 140. The U-boat continued eastwards into the English Channel with the aim of attacking the Allied landings at Normandy.
The U-boat never got there; on 18th June 1944, 3 days after sinking the British frigate, U-767 was located and sunk in the English Channel west south west of Jersey by Royal Navy destroyers of the 14th Escort Group.
Commander Currie on HMS Fame set a horseshoe shaped trap into which the U-boat sailed and was ambushed before its captain Oberleutnant Walter Dankleff could take evasive action.
HMS Fame attacked with hedgehog anti-submarine mortars like this.

photo from wikipedia commons
Hedgehog bombs were fired from the bow of the ship in a pattern of 24 and exploded on contact; 3 struck the U-Boat near the bow and a large bubble of oil rose to the surface.
Soon after that a crew member – a stoker called Walter Schmietenknop – also made it to the surface in an air bubble which had escaped from the sinking U-boat. He was quickly picked up by HMS Fame. The other 49 sailors died in their vessel which sank to the seabed, 240 feet below.
The following quote is from this page which has photos of Walter Schmietenknop and describes an encounter with some sailors (possibly my father!) on HMS Fame.
"…a couple of young sailors came in and started to tease me. They had a magazine with a picture of Hitler in it. They showed me the picture and then motioned that they would cut his throat. I shook my head and said "No, No." but they just laughed and did it again. They gave me the magazine and left. So I looked through the magazine and found a picture of Winston Churchill. When the two sailors came back in, I showed them the picture of Churchill and made motions to cut his throat. They burst out laughing and we had a good laugh together. We agreed that we should cut both throats."
________________________________________________________________________
EDIT MARCH 2016
I have been provided with copies of pages from the Liverpool Daily Post of 22 August 1944 which details this attack. Bearing in mind censorship and the difficulties in separating journalism from propaganda, the reporter interviewed Cdr Currie. He described the group attacking the U-boat on a calm and fine day, "under the noses" of German shore batteries which only opened up after the survivor, "a lad of about 18" was picked up. The group, consisting HMS Fame, Inconstant, Icarus and Hotspur, laid a smoke screen once the guns opened up and chucked in a few more depth charges "for good measure" before moving off.
The group had been busy after D-day, picking up 140 survivors of a German destroyer sunk the day before by HMS Tartar, half a dozen RAF airmen from downed Lancasters, an American airman whose Mustang was shot down, and 40 German sailors from u-boats. Also the newspaper reported that for the first time since D-day, the group came under attack from the Luftwaffe with 6 Dorniers attacking, "…however, Mosquitoes appeared and Commander Currie saw Dorniers falling in flames into the sea all around his ship." 8 German airmen were picked up.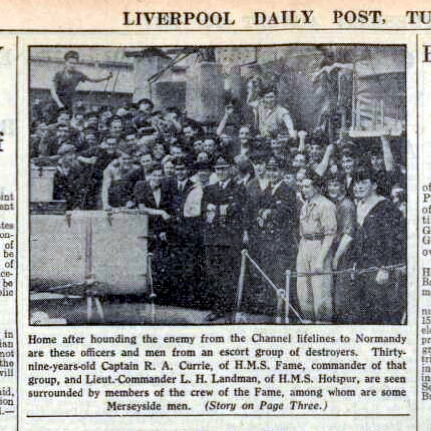 With many thanks to Michael Thomas for forwarding the copies.
Google map showing approximate location of the wreck site of U-767
Page detailing the discovery of the wreck of U-767 by Leigh Bishop in 2002
French TV report showing a dive to the wreck site of U-767.