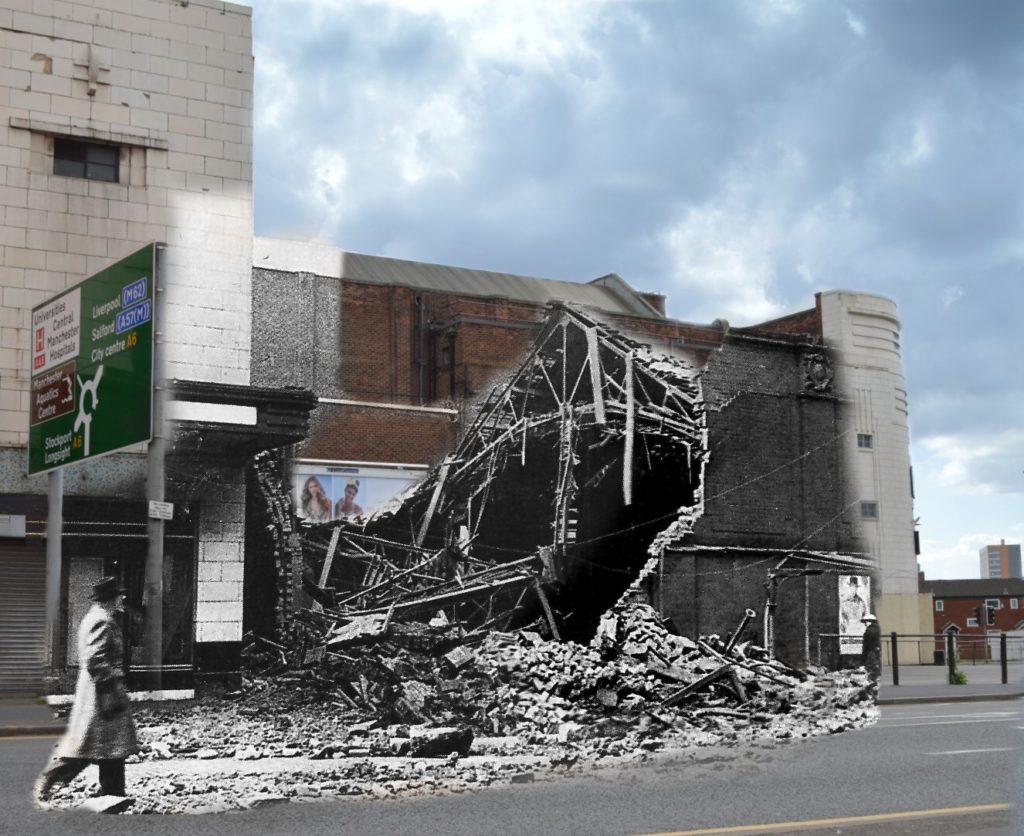 Then & Now, Ardwick, Manchester
The photo composite above was taken from Hyde Road in Ardwick. It shows the Manchester Apollo theatre behind the destroyed Ardwick Picture House. Where the Picture House once stood there is now a car park serving the Apollo.
Below; Original photo of the destroyed Ardwick Picture House after the air raid of 11/12 March 1941 with the Apollo behind it. The second photo shows the bomb came down right on the screen.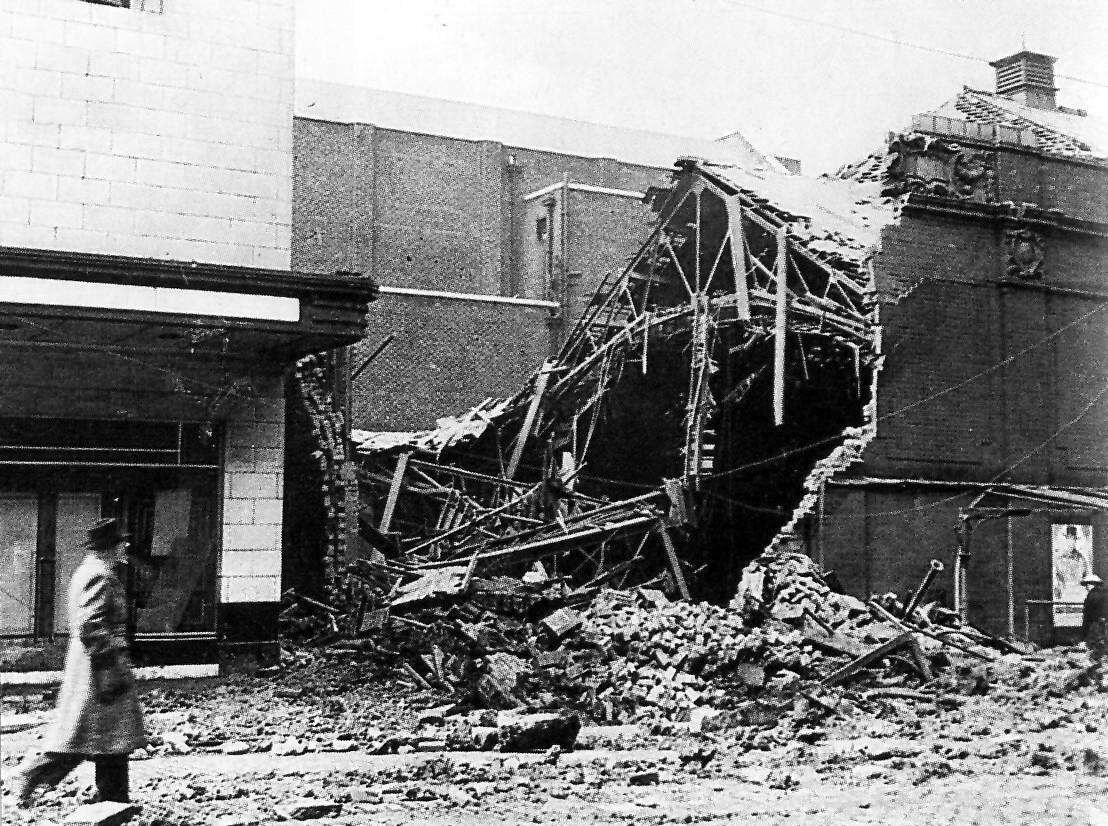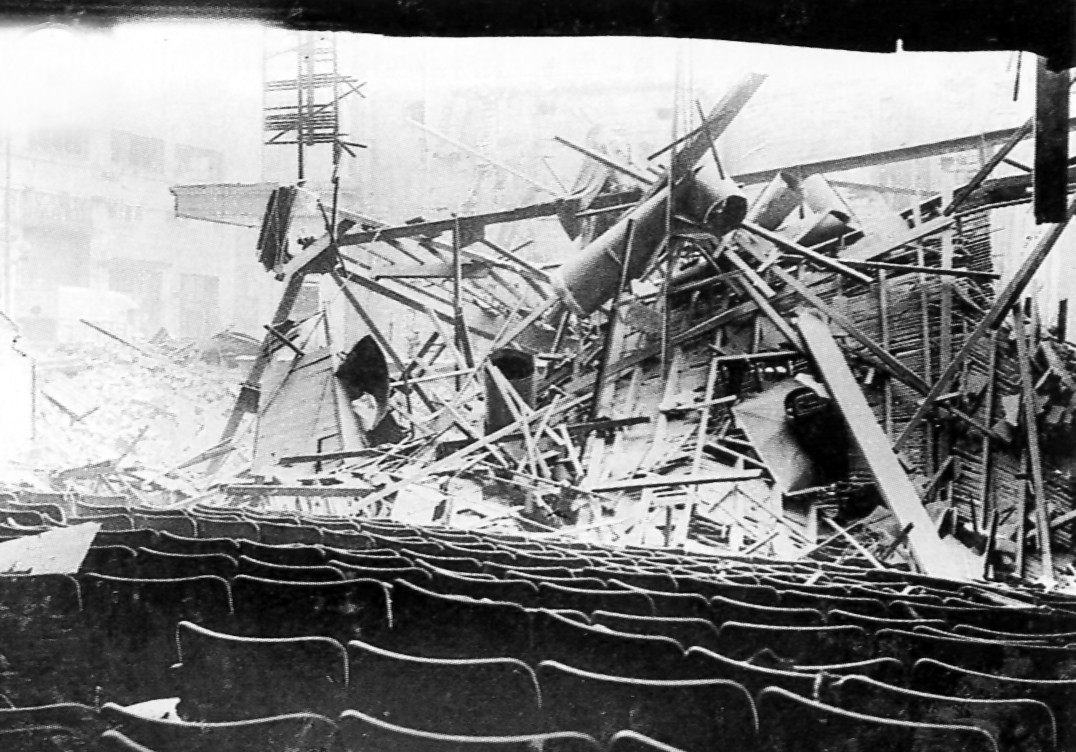 Mid-March 1941. Huge air attacks were launched against Great Britain by the Luftwaffe with London and Portsmouth particularly suffering.
Manchester's turn was on the night of 11/12 March, an attack which killed 26 civilians, mostly in Chorlton-cum-Hardy and in Hulme. One person died at Hyde in Cheshire.
This is 19 Torbay Road in Chorlton-cum-Hardy. The house was built on the spot of the old dwelling which received a direct hit on the night of 11 March 1941, killing Peter Goodyear. In the adjacent road, at number 32 Dartmouth Road, 2 women called Ida Teer and Barbara Mary Teer were also killed.
Although the civilian dead were in their own homes, there was extensive damage done at the docks at Salford, the largest dock (number 9) being the main target. 2 anti-aircraft gunners were killed and at least 10 merchant ships were sunk or damaged.
Below; Luftwaffe target map of Salford Docks and map of the docks from Google.
One bomb fell at Old Trafford, wrecking the ground. Manchester United were helped out by their old friends Manchester City, Maine Road serving as United's home ground until 1949.
Below; Bomb damage at Manchester United.
BBC People's War records one witness who says a young lad escaped physically unscathed when "the family home was totally destroyed by a bomb. His bed was catapulted over the rubble into the street with him in it"
Alas both his parents were killed.
The detail that workers at the docks survived but people in their own homes were killed supports research undertaken by Helen Jones in her 2006 book, "British Civilians in the Front Line: Air Raids, Productivity and Wartime Culture, 1939-1945."
Jones shows that contrary to the popular view of British civilians huddled in air raid shelters, people tended not to go to air raid shelters once they they started to grow accustomed to air raids. Going out to a cold and damp shelter in the middle of the night, or sharing a dirty and vandalised public air raid shelter with all manner of strangers was a response which quickly lost whatever appeal it once held.
Instead many people took their chances, reckoning that an air raid shelter would not withstand a direct hit anyway, a gamble which didn't pay off for Mr Goodyear, while that same night an older couple in Urmston survived the chaos around them by remaining in their garden Anderson shelter.
Meanwhile it is very probable that the workers at the docks would have worked on through the air raid siren until roof spotters (or those on the merchant ships) saw the Luftwaffe were heading directly for them, whereupon a very local alarm would be raised and the workers would quickly take cover at the last instant. Having said that, accounts show that night that bombs started to fall as soon as the general alarm sounded, so the dock workers would not have been hanging about.
Info and old photo sources;
Luftwaffe over Manchester by Peter J C Smith, 2003
Manchester at War by Clive Hardy, 2005
British Civilians in the Front Line: Air Raids, Productivity and Wartime Culture, 1939-1945, Helen Jones, 2006