Westland Wessex XR524
The saddest of air crash sites, three teenage Air Cadets drowned when the helicopter they were in spun out of control and into the the lake of Llyn Padarn at Llanberis in Wales on 12th August 1993.
There were four air cadets on the helicopter, all from Bury and Bolton in Lancashire.
It would have been a big day out for them; while on summer camp in North Wales they had the chance to get first hand experience of search and rescue operations in a Westland Wessex from RAF Valley on Anglesey (which is where Prince William was based, he was the captain of a search and rescue Sea King helicopter).
Flying across the lake a drive shaft for the tail rotor broke, causing the helicopter to spiral down and out of control. It sank immediately. The helicopter's crew were able to escape, as was one of the cadets, 16 year old Cadet Corporal Sarah Coker.
Cadet Corporal Coker later said that she struggled to get the safety belt off while "…there was all this icy black water gushing in through the door. I didn't even have time to take a breath of air. I couldn't see anything and couldn't breathe. I remember feeling around for the door and not being able to find it. But somehow I got out and inflated my lifejacket. There was no chance to see what happened to any of the others."
Those who died in the crash were Cadet Corporal Coker's friend Cadet Sergeant Amanda Whitehead, aged 17 of 1036 Bury Squadron, Cadet Christopher Bailey, aged 15 of 1471 Horwich Squadron and Cadet Mark Oakden, aged 16 and also of 1036 Bury Squadron.
The crew of the Wessex all escaped. They included pilot Flight Lieutenant Keith MacGuire, winchman Flight Lieutenant Paul Todd and a navigator whose identity I have been unable to confirm. If anyone knows, it would be good to add that detail. Edit September 25 2013; Many thanks to Huw for providing the following info re; the unidentified crew member, and also for his thoughts on the cause of the accident (please see comments below);
The navigator sat in the left seat was Dan Eaton. I believe he was a holding officer on SARTU and just happened to be on that flight.
Memorial by the lakeside.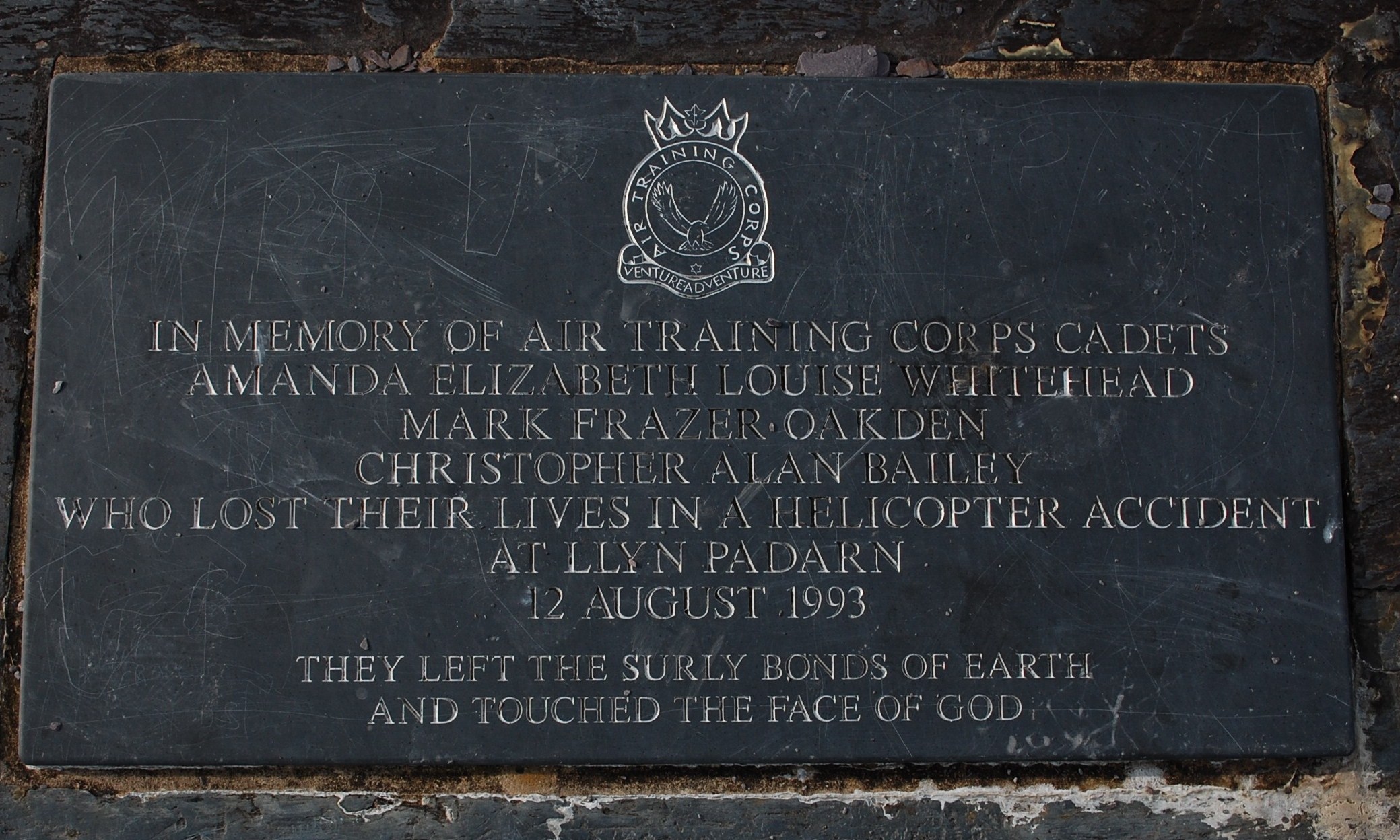 See also;
2 BBC reports (which have some photos) from the 10th anniversary
1. Memorial service
Military Aircraft Accident Summary (pdf)
Main source and quote; 'No Landing Place' Volume 2 by Edward Doylerush, 1999