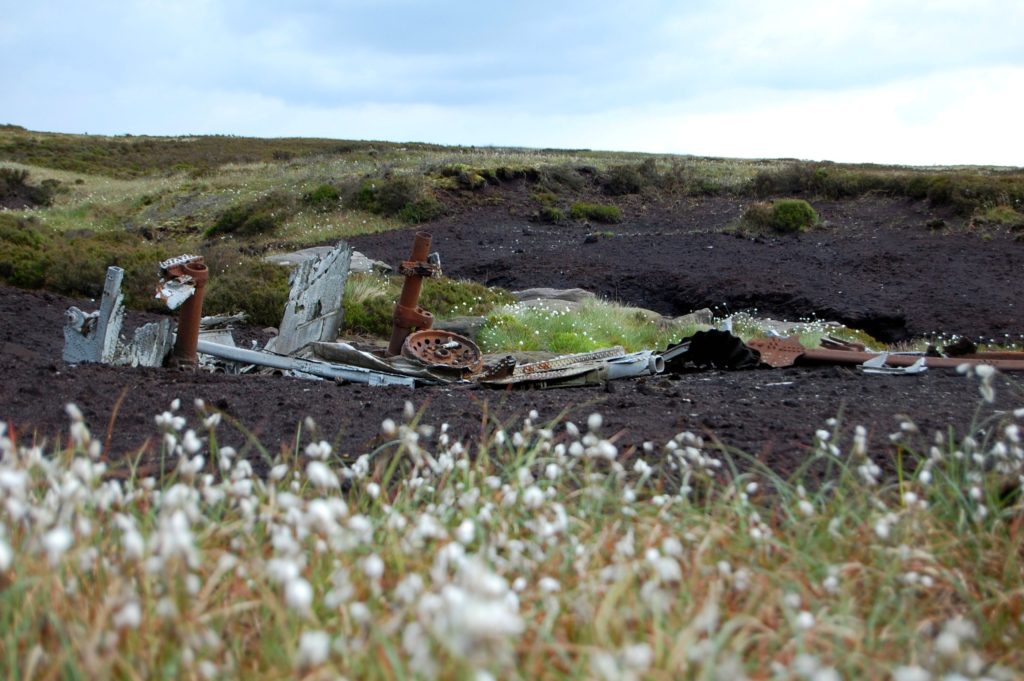 USAAF B-17G Flying Fortress 43-37667 "Barbara Jane"
April 6th 1945
All crew members survived this crash though two were severely injured.
"Barbara Jane" had had two new engines fitted which needed a bit of running-in. The crew soon bored of flying around their base in Suffolk, and headed north towards Manchester.
Encountering low cloud, pilot First Lieutenant Winston Johnson tried to keep sight of the ground, but soon became lost. Flying in a South-Westerly direction over Huddersfield, the B-17 hit the moor. The co-pilot Second Lieutenant Raymond W Parks was at the helm; he had seen the hills rising around him and powered up, thus softening the blow when it hit the ground.
The pilot and navigator Second Lieutenant Walter Vukelic, both in the nose of the bomber at the time, were thrown through the Plexiglass on impact. They both suffered severe spinal injuries, and were unable to walk again. Also on board were Sergeant Robert J Schnug, flight engineer and Sergeant Robert J Woodbeck, wireless operator.
From Don Cohen;
This was my father's plane that he named after my cousin Barbara and the co-pilot's wife Jane. It is believed he was the youngest pilot in the 8th AirForce. Flew 35 missions.
Visiting the site
The air crash site is at grid reference SE 07089 09529. If accessing via West Nab – an easy climb from the road – the route down to Scope Moss can be difficult with lots of boulders (Wicken Stones) and thick heather hiding potentially bone-breaking unseen hollows underfoot. Other routes to and from the crash site can be equally difficult over tussocks of grass and hidden boggy bits. To add to your discomfort, the crash site is on the edge of a firing range. There are comments on line about these signs (see below) being placed hundreds of metres from the actual exclusion zone. There are lots of them on the moor. The crash site is actually just outside of the exclusion zone, though if the red flags are flying I'd give it a miss all the same.
Photo taken February 2023 on Horseley Head Moss

On this government provided information map I've circled the crash site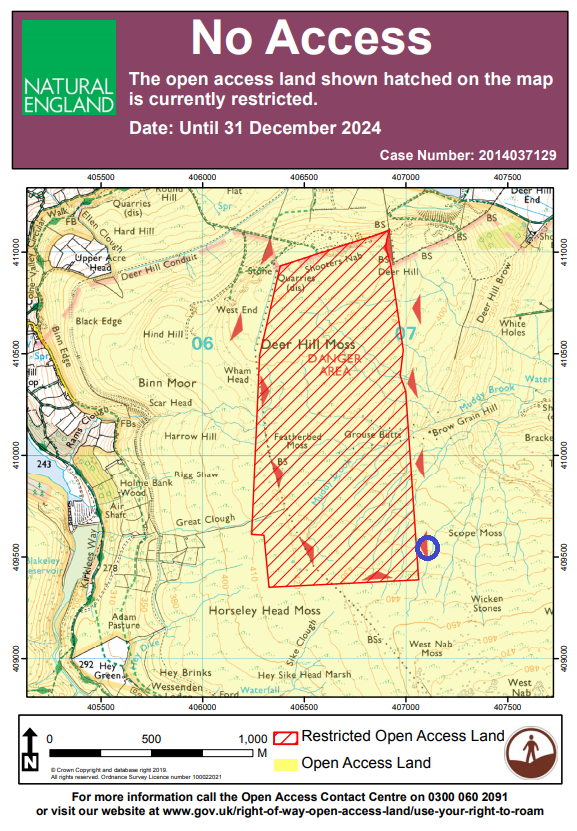 source: DEFRA
These three photos were taken January 2016
These three photos were taken February 2023.