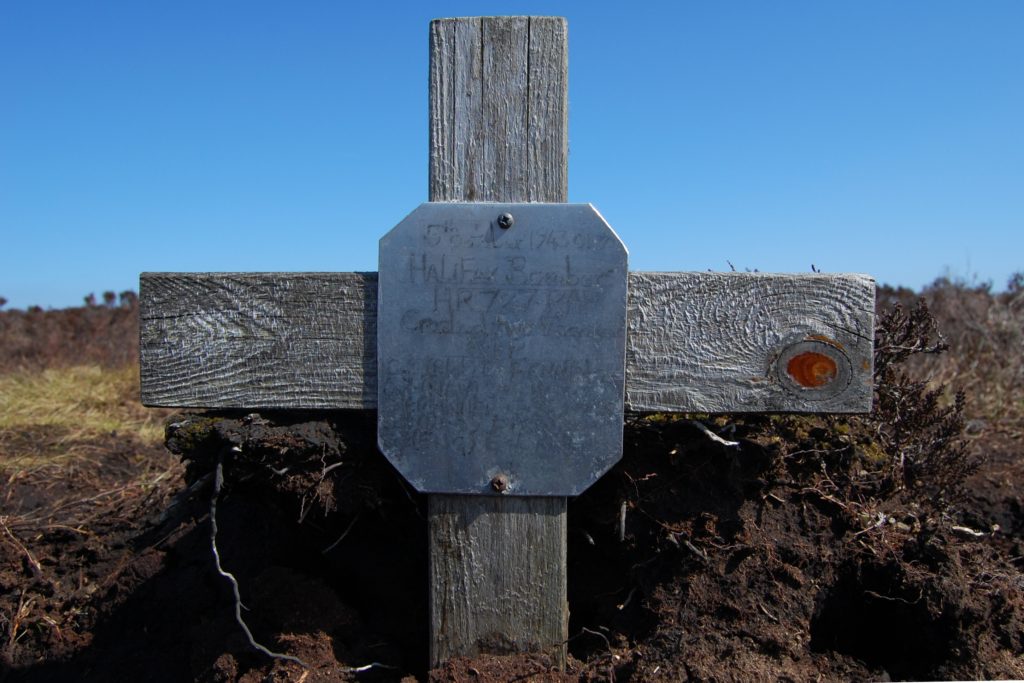 Memorial at site of crashed Halifax Mk.2 HR727, Kinder Scout
On October 5th 1943 Halifax bomber HR727 was returning from a raid when it crashed on Edale Moor, England.
After dropping its bombs, The Halifax had been coned by searchlights over Frankfurt and was attacked by a German fighter. The pilot Sergeant Fenning managed to escape, but his plane was badly damaged. With one engine out, communication equipment not working, and a fuel tank holed and leaking fuel, the Halifax limped back towards its base in Yorkshire in deteriorating weather. With no way of knowing precisely where they were, the Halifax gently descended through the cloud, Sgt Fenning believing the aircraft to be in the vicinity of Selby, some 35 miles North East of where they actually were – over the hills of the Peak District.
The impact of the crash killed 4 crew members immediately. Two crew members survived, so while Sgt Garland stayed with the injured Sergeant Lane, Sgt Mack set off along the debris trail and into the night to find help. By the time help arrived the next day, Sgt Lane had died. Their bodies were taken down to the chapel in the Woodlands Valley.
Crew;
Sergeant Ernest Hatfield Fenning, RAF, pilot, killed.
Warrant Officer Class Two, Jean Gilbert Felix Fortin, RCAF, navigator, killed.
Sergeant Eric George Lane, RAFVR, flight engineer, survived briefly.
Sergeant Frank Allan Squibbs, RAFVR, wireless operator, killed.
Sergeant Boris Carl Short, RAFVR, gunner, killed.
Sergeant Victor Garland, RAF, bomb-aimer, survived.
Sergeant Jimmy Mack, RAF, gunner, survived.
Details from PEAKLAND AIR CRASHES – THE NORTH (2006) by Pat Cunningham.