Norseman crash site on Shining Tor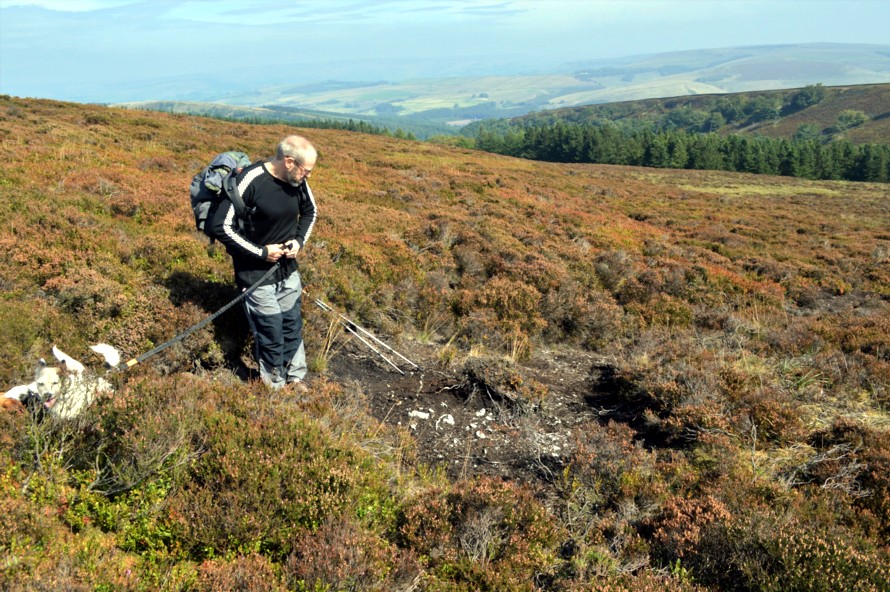 Site of USAAF Noorduyn Norseman UC-64A 43-35439 which crashed on 29 September 1944. Visit 2018 with Sean of UK Air Crash Site Coordinates
The pilot, Second Lieutenant Arnold Fredrickson was expecting clear weather for visual flight i.e. being able to see the ground, having already made the journey from RAF Burtonwood to RAF Winthrop. He was making the return journey back to Cheshire that same day when he crashed on Shining Tor, a hill between Macclesfield and Buxton.
The weather had deteriorated and, encountering a headwind and cloud, 2 Lt Fredrickson climbed higher to avoid the hills of the Peak District and added an hour on to his estimated time.
He descended, expecting to be clear of the hills given the additional time he had given himself, but that safe space was still some 4 or 5 miles distant. Seeing high ground suddenly looming ahead, the pilot put on more power to climb again but struck the moor, whereupon the Norseman turned over and caught fire.
Second Lieutenant Fredrickson survived the crash, clambered from the wreck and made his way to Stake Farm and from there was taken to the Cat and Fiddle pub.
Grid ref SJ 99830 73579
Details and grid ref from Cunningham 2014 (see bibliography).
The UC-64 Norseman, a Candadian 10 seater bush plane, was designed for landings and take off on rough surfaces.
Glenn Miller was a passenger in a UC-64A Norseman when it disappeared over the English channel 15 December 1944.
The image below shows a UC-64A Norseman, this one being 43-35396 which crashed in Brittany, killing the pilot Robert Patterson, 28 August 1944