Sabre Mk2 19234 on Black Hill with the Holme Moss transmitter beyond
Sabre jet 19234 crashed 14th December 1954 killing the pilot Flying Officer Patrick Vernon Robinson RCAF while on a test flight from Ringway (Manchester Airport) where the aircraft was being re-conditioned before being transferred to the Greek air force.
The Sabre was seen flying low over the Holme valley in low cloud. The cause of the crash was attributed to pilot error in not taking the high ground into account.
Cunningham (2014; see bibliography) says the aircraft flew "…directly into the moor and skidded on, shedding wings and other components as it went. It had also torn Flying Officer Robinson from his ejection-seat harness, thrown him through the canopy, and tumbled him a full eighty yards further on along the line of flight."
Grid ref SE 09106 05071. There are other caches of debris nearby though on a visit in January 2019 it appears some of the debris from the smaller collections has been moved to the main site. This may be because of conservation efforts to reseed the heather on the moor. The lead photo above was taken October 2008 when the site was partially under a pool of water.
These two photos, along with the one above, were taken October 2008.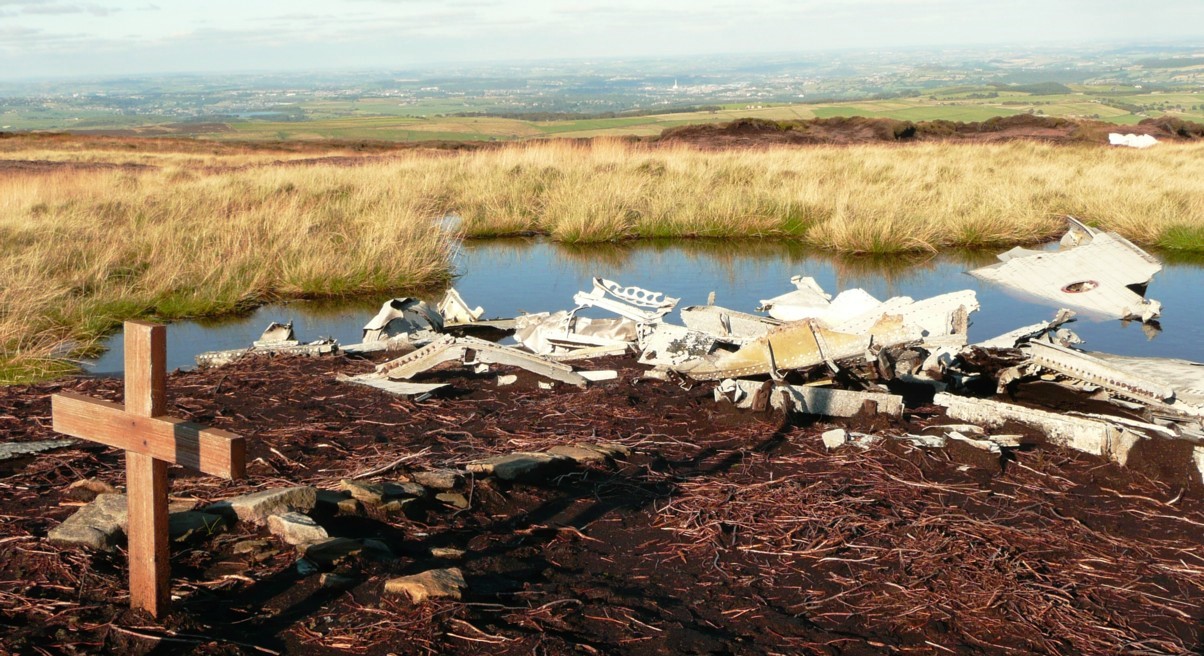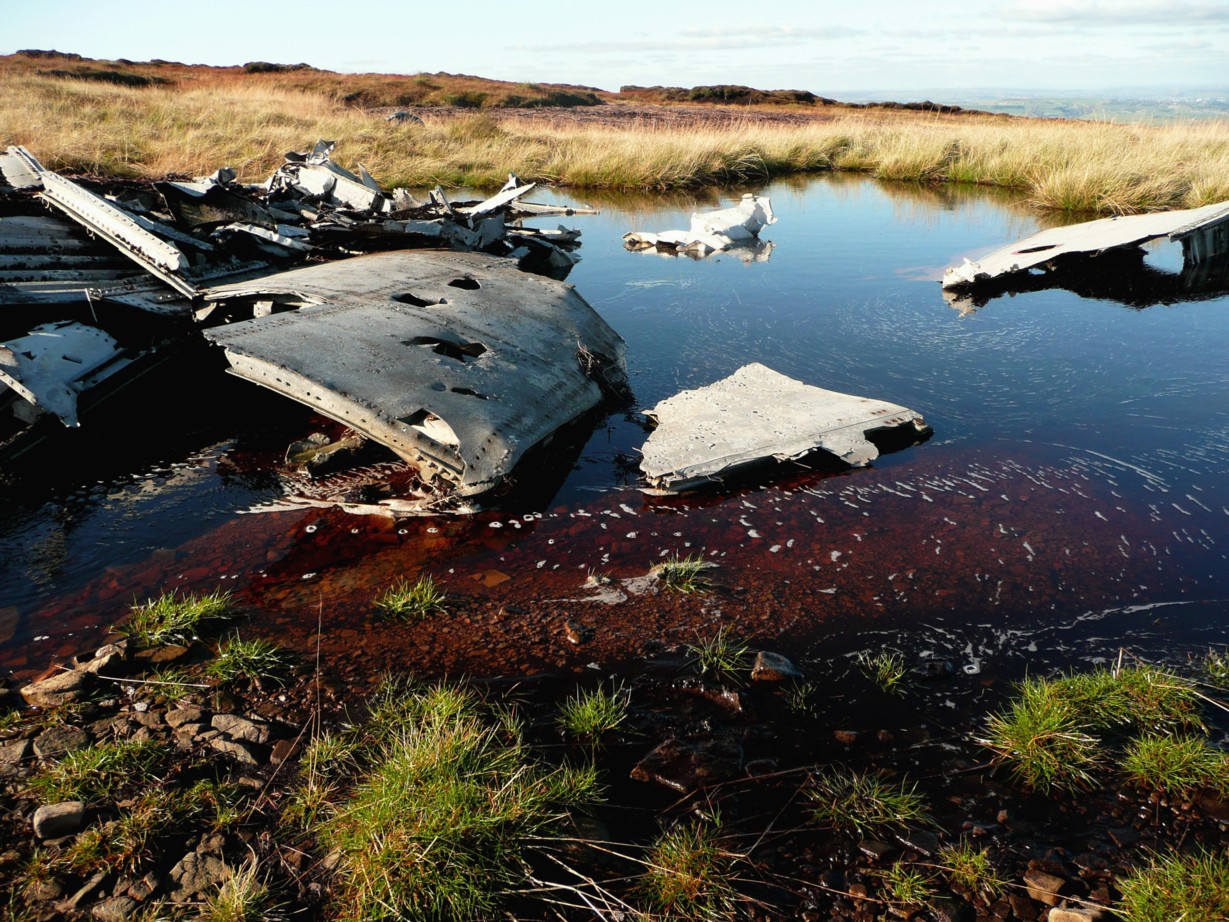 In 2008 the fuel filler had a red ring around it, but this has since been prised off and stolen (compare photos below) though god knows why anyone would want to do that. Another decade of being exposed to sun and weather has further faded the stencilling. It reads FIRST FILL FWD FUS. AND CENTRE WING CELL. SECOND FILL OUTER WING CELL. LAST FILL AFT FUEL CELL. CAUTION DO NOT OVERFLOW.
2008

2019

Photos below taken February 2023. Some of the pools of debris (as observed in 2019) appeared to have been emptied, perhaps the debris joined with the main collection? On this visit in 2023, I found just one hollow with debris but it contained nothing more than fragments.
Due to a glitch on this page in 2019, I had to reimport the photo and words and lost the comments. Have preserved this one but author unknown.
"I was stationed at RAF Church Fenton when the RCAF Sabre jet crashed close to the Holme Moss television relay station, I and several of my colleagues were detailed to guard the wreckage,(sadly the Canadian pilot was killed).We were billeted in the cellar area of the relay station,and organised ourselves into shifts to guard the wreckage of the crashed jet,it was spread over quite large area.I was quite surprised to see a number of sightseers visiting the wreckage because the surrounding area was covered in quite deep snow.The journey from the relay station to the crash site was time consuming,made more difficult by the deep snow. I seem to remember that we were there for several days before we returned to Church Fenton. I worked in the orderly room of Church Fenton and recall some very happy occasions with my national service colleagues but the CRASH remain a sad memory (then AC 1 Mellon)"