Air Raids on Bury, Lancashire
This is a record of the Luftwaffe air raids on Bury during World War 2 excluding the V1 attack of Christmas 1944.
There may have been more than those recorded here and I still have some more research to do, but I believe this piece covers them all.
The reason I have added it is because there is very little on the internet or in print about air raids on Bury. That is probably because Bury suffered very little – at least until Christmas 1944 when out of the blue a V1 struck at Tottington killing 7 people. Until then, there had been no deaths in Bury as a result of German bombs, though one source contradicts that.
Thus the inhabitants of Bury were very fortunate, the majority of bombs landing in fields and gardens rather than on houses.
The image above shows Walker's Field from Chesham Road where one bomb fell – please see below under October 12 1941 for details.
Regarding the attacks it is doubtful the pilots of the Luftwaffe bombers knew exactly where they were. Some may have been opportunist attacks but other sources evidence all these attacks happened during air raids on Manchester, so it is probable the bomber crews thought they were attacking the city or intended to attack the city but could not find their target. In 1941 only 10% of RAF bombers over Germany dropped their payload within 5 miles of the intended target so it is reasonable to assume a similar success rate for Luftwaffe crews over Britain though German radio navigation will probably have had some impact on success rates.
Re; the info below, anything in italics is a quote from the Bury Times of the time. The reason the paper is vague about locations is so as to not provide the enemy with intelligence.
The first time the air raid warning sounded in Bury was June 20th 1940. This was in response to an air raid on Accrington 11 miles to the north which caused the alarm to be raised as far south as Manchester which is 8 miles from Bury. One source states 6 High Explosive bombs fell, killing 3 people in Accrington.
Below; An air raid siren was located just to the left of this electricity substation on the corner of Mather Road and Walmersley Road in Bury. On the brickwork of the substation between the two doors, you can still make out a very faded diamond shape painted black filled in with even more faded yellow paint. This was possibly an Emergency Rendezvous Point symbol? Please see here for more about them and other examples in Lancashire.
Then;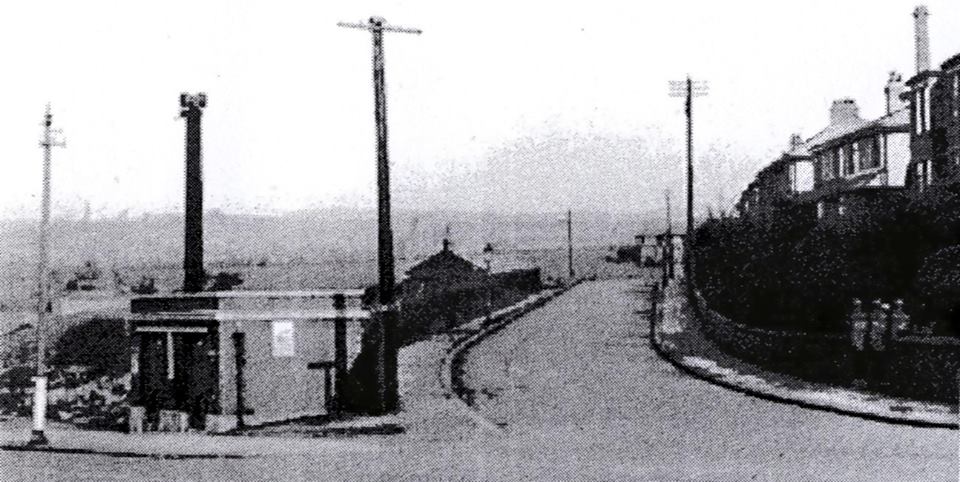 Now;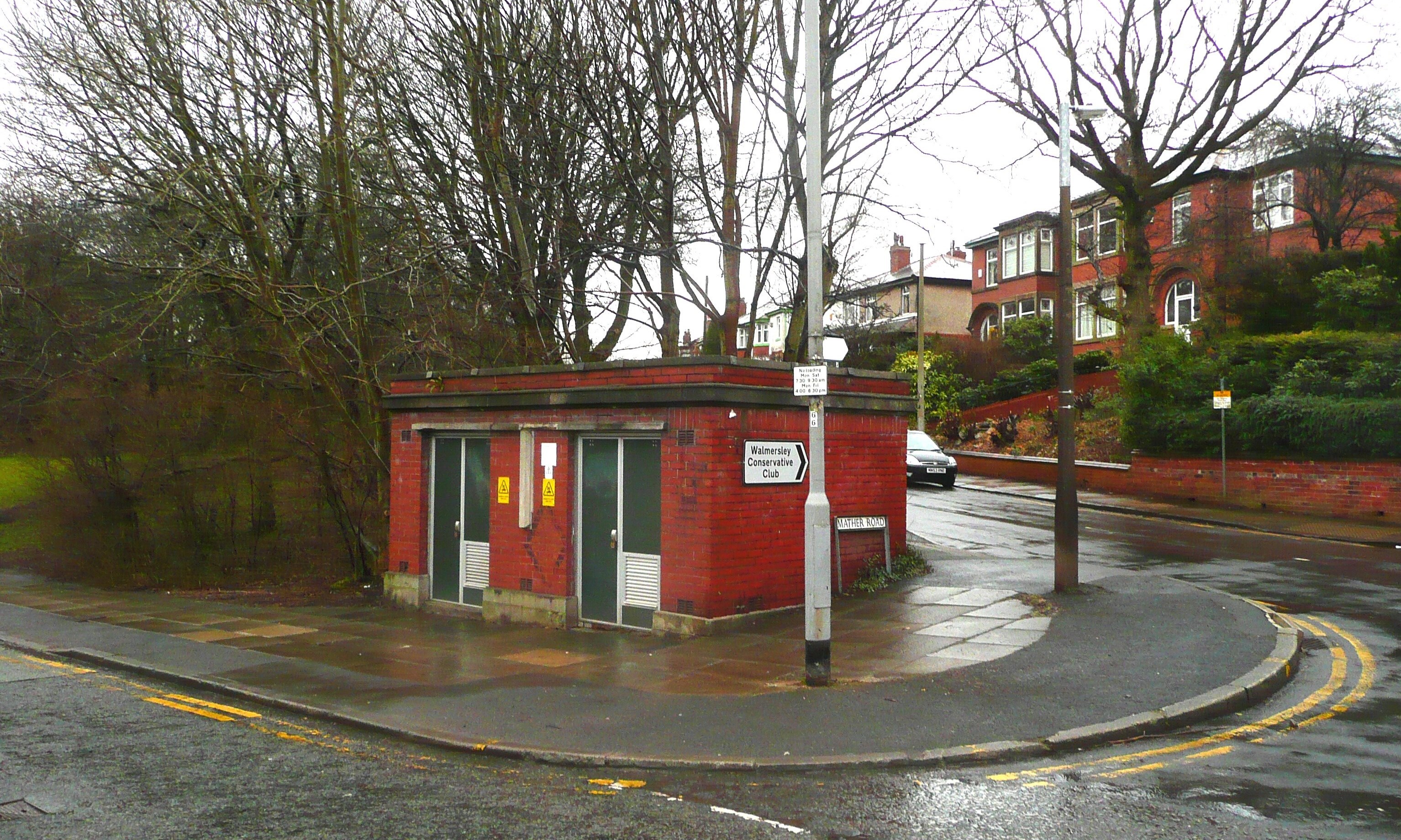 Listen to WW2 Air Raid sirens – this is probably how it sounded, the wail of several sirens drifting across town at the same time…
Link will open in a new tab.
____________________________________________________________________
August 29 1940
The Bury Times of 31 August ran with the headline
PEOPLE REMAIN CALM IN THEIR FIRST AIR RAID
Little Damage By Night Nuisance Bombers
This first air raid on Bury struck to the north of the town, around the area of Walmersley. Bast House near Nangreaves was damaged and there was some minor damage to the Hark to Dandler pub at Baldingstone. Houses in the area were also damaged, mostly with windows blown out.
The Bury Times reported When light-calibre bombs were dropped in a North-Western town, slight damage was caused.
"Women and children behaved wonderfully well" said an official in paying tribute to the behaviour of the people. Quick to realise the necessity of taking cover, people had hurried from their beds and taken cover either in shelters or under the stairs away from flying glass.
There is a reference to a hospital in the area being in the vicinity of the falling bombs, probably this was Bury General Hospital on Walmersley Road.
Below. Photo from the Bury Times, captioned FOUR bombs fell in open country, only small craters were made.
There were casualties elsewhere in the area that night, 6 people were killed and 10 injured in Hulme, Manchester. HE and incendiaries also fell on Ancoats, Moss Side, Chorlton-on-Medlock, Openshaw and Platt Fields.
August 31 1940
Bury escaped the air raid on Swinton and Pendlebury of August 30 but as more bombs fell on Manchester on Aug 31, Bury again had a few bombs fall at Tottington and at Hoyle's playing fields off Huntley Mount Rd.
Under the headline BOMBS DROP HARMLESSLY ON NORTH-WESTERN MOORLAND the Bury Times refers to an orphanage being close by but fortunately there were no casualties. That was probably Hollymount which was north of Tottington. The bombs made two huge craters near the orphanage.
The newspaper also reports A few miles across the moors thirteen bombs made much smaller craters in the fields. "I thought one of the bombs was coming straight for my place" said the licensee of the Pack Horse Inn.
I think that is a reference to the Pack Horse Inn at Affetside though it is only a mile from Tottington.
"The villagers did not think much of the raid. Here are two views;
A Youngster; "Of course we weren't frightened"
An elderley inhabitant; "Yon pig could've scrat bigger holes than them craters."
October 2 1940
Inman and Helm (Bury & The Second World War, 1995) say that 2 people were killed in the air raid of October 2 1940, but other sources say there were no casualties though they are all quite vague in reporting the attack.
The Bury Times of October 5 stated there were no serious injuries but it is possible they were people who later died of injuries. All reports refer to Jericho hospital (now Fairfield Hospital) being bombed.
A 7 year old boy, a patient at the hospital, said when asked by a Bury Times reporter if the children had cried, "We're not THAT soft!"
Helen Jones (British Civilians in the Front Line, 2006) says that early in the war the government (and consequently the press) had expected people to panic during air raids; people had seen newsreels of the effects of Luftwaffe bombing raids during the Spanish civil war, especially Guernica in 1937. So when people appeared calm and taking it in their stride, it was reported on. Later on in the war, the press expected people to remain calm and so occasions where people panicked were unusual and worth reporting!
One bomb fell in the middle of a lawn of a town house causing a 30 foot wide crater while another landed near the home of 86 year old Mr R Parker who said, "Oh it shook the house alright but if there is nothing worse I shall not mind."
Peter J C Smith (Luftwaffe Over Manchester, 2003) notes that night a number of oil bombs fell on Salford, on Bury Old Road, Prestwich causing some severe burns and at Whitefield an oil bomb in Thatch Leach Lane failed to ignite.
Below; Seedfield Methodist Church off Walmersley Rd in Bury was a decontamination centre and gas mask distribution centre for the area.

Below; there used to be a public air raid shelter on the corner of Manchester Road and Radcliffe Road, opposite the Staff of Life pub. It has been filled in now, all that remains visible is what was the entrance to the shelter. German POWs were marched down Manchester Road from Knowsley Street station and passed this place on their way to the camp at Warth Mills.

October 7 1940
The Bury Times reported on Wednesday October 9th 1940 of an air raid two nights before and what appears to have been the first fatalities in Bury; some hens were killed.
A great barrage was put up by anti-aircraft guns and 2 HE bombs fell in a field a short distance from Bury Grammar School (not identified in the Bury Times report) but demolished only a small hencote. Some windows were broken but there were no casualties in Bury. There were deaths that night however in Collyhurst and in Urmston.
May 2 1941
2 parachute mines fell at Stubbins, one on the bank of the River Irwell and the other a few hundred yards away at Stubbins Street. Both exploded, incredibly causing only minor injuries and some light damage to property.
Two ARP wardens saw the mines slowly descending and thinking they were Luftwaffe airmen who had baled out of their bomber, prepared to apprehend them, before realising the true nature of what was hanging beneath the parachutes. They quickly dived for cover!
(Inman & Helm, 1995)
One source states that 286 houses were damaged at Stubbins and 18 people were slightly injured.
The Bury Times reported one family, a Mr and Mrs Harry Warwick and their 9 year old daughter Alice, who had a miraculous escape when the bombs which fell by the river blasted off the roof of their bungalow and two walls caved in yet the family emerged with just a few cuts and bruises. "Strangely enough," said Mr Warwick, "for none of us heard the explosion, the first thing we knew was that the roof and walls had collapsed on us."
The paper also reported a house where the heads of a bunch of daffodils were cut clean off leaving the stalks and vase untouched. These sorts of details are not uncommon when reading reports of bombings, blast patterns having some bizarre effects in terms of who and what survive.
Below; a parachute mine similar to the ones which fell at Stubbins. This one fell at Oldham in the back alley between Castleford Street and Wakefield Street, this view looking towards Lime Street.
Image © Greater Manchester Police Museum & Archives. Used with kind permission

October 12 1941
The last of the bomber air raids to strike Bury, so far as I can tell, was in October 1941 and apart from a brief spell in July 1942 where parts of Manchester were bombed again, there was no more enemy activity over Bury until the V1 attack of Christmas Eve 1944. A record from Nov 1943 notes 326 houses in the borough had been damaged (Inman and Helm) though this tally will include broken windows and predates the V1s at Radcliffe and Tottington of course.
The final air raid seems relatively well known in Bury, people referring to bomb craters still in Walker's Field at Chesham (see lead photo above)
I am uncertain which of the depressions in Walker's Field – if any – is the result of an HE bomb and there is no consistency when asking the locals. Smith notes that while 5 bombs fell in Bury, only one of them exploded so only one of the depressions in Walker's Field can have been made by a bomb, a detail sort of verified by the Bury Times which reported the incident, as usual, without referring to the town or the area. "A stick of bombs was dropped near a North-West inland town… windows and doorways were shattered when a high explosive bomb dropped in a field opposite a row of houses… The bomb landed a few yards away in a railing enclosed meadow."
Oldham had it far worse that night with 27 people killed and 16 seriously injured while another 13 were killed in Denton. Bombs fell too in Bolton, Rochdale, Ashton, Clayton and Newton Heath.
Below; soldiers recover an unexploded bomb at Lilac Lane, Oldham after the air raid of October 12 1941.
For the 1944 V1 attack which struck at Tottington please see here.
Within this gallery (Air Raids & Bomb Sites) there are also photos and details of the V1s which fell at Radcliffe and Turton and other places around Manchester.