Wellington bomber HE226
‹ Return to Air Crash Sites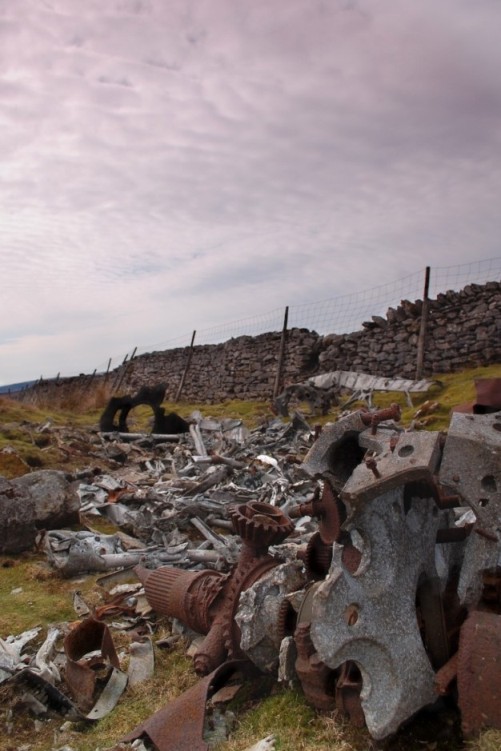 Wellington bomber HE226
Wellington HE226 of No17 OTU (Operational Training Unit) was on a cross country training flight when it crashed with the loss of all crewmen on May 28th 1945, near the village of Conistone in the Yorkshire Dales.
It appears they had missed the designated turn point and nearly 40 miles from where they should have been, descended through cloud to get a visual fix only to meet the high ground of Bycliffe Moor rushing up towards them.
The crew were all members of the Royal Air Force Volunteer Reserve and the Royal Auxiliary Air Force. These were no weekend flyers however. Volunteers accounted for the first Luftwaffe aircraft shot down over Britain, were the first to knock out a V1 flying bomb, and fought in the Battle of Britain.
Crew;
Pilot; W/O Edward C Cole RAFVR
Navigator; Sgt James Mann RAFVR
Bomb Aimer; F/Sgt Arthur J Griffiths RAuxF
Wireless Op; Sgt John Duncan RAFVR
Air Gunner; Sgt Herbert H Rawnsley RAuxF
There is a lot of wreckage at this site, much of it deposited in sink holes, which are a geological feature of the area; limestone is dissolved by rain water over time, and the ground collapses in numerous depressions, indicating systems of caverns below.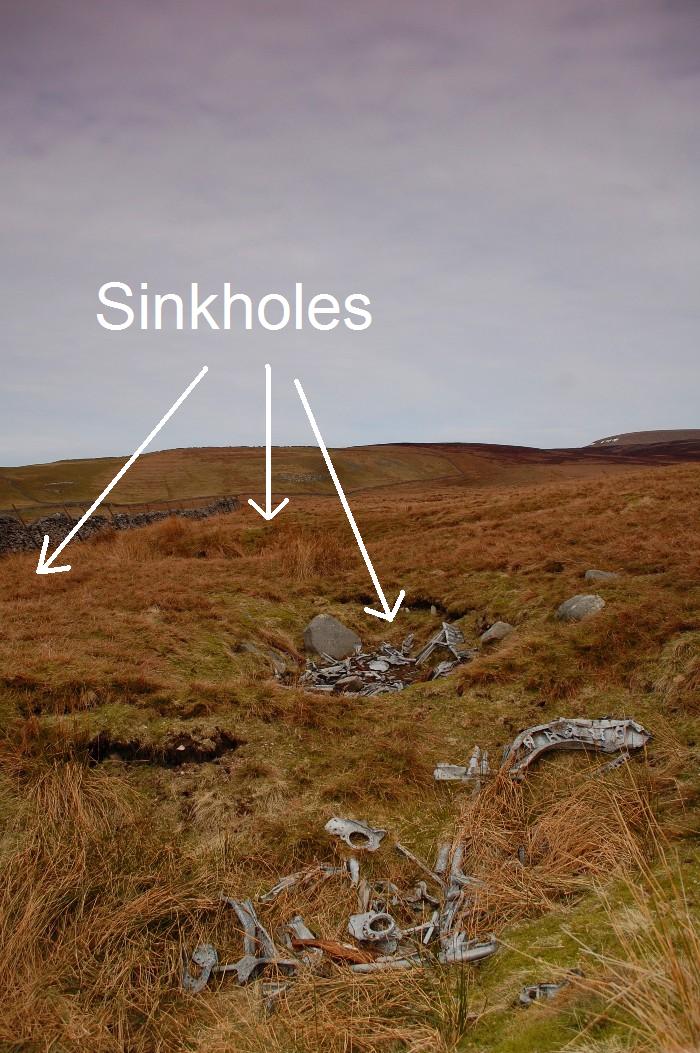 EDIT 30 MARCH 2021.
These 5 photos were all taken by Stephen M and are used with his kind permission. They are much better photos than the gloomy lead photo above and show the debris off better too.
On this day, another OTU Wellington bomber also came to grief with the loss of all on board while on a cross country training flight, Canadian crewed Wellington HE871 which fell out of a storm cloud and into the sea between Wales and Ireland.