USAAF B-24H 42-94841 'Sack Time' on Twizle Head Moss, Yorkshire
On 9th October 1944, B-24H Liberator 'Sack Time' was being taken for a test flight following repairs. The crew, skippered by First Lieutenant Elmer D Pitsenbarger of Iowa, were joined by two ground crew passengers who had been begging for a flight for some time and were taken along for the ride.
All except one on board were killed in the crash. The B-24 was flying too low in low cloud. Trying to remain below the cloud in order to maintain visual contact with the ground, the pilot had not accounted for the high ground rising unseen ahead.
42-94841 flew low over Holmfirth and along the Holme Valley. However, the ground rises steeply at the end of the valley and the Liberator collided with the moor, gouging a trail 200 metres long and bursting into flames. Another 20 feet might have seen them clear.
Survivor Staff Sgt Curtiss Anderson recalled looking out of the window and seeing wisps of cloud. He plugged in his intercom having just returned from the flight deck, looked out again and saw grass… At that point, everything went black.
He awoke on the moor, surrounded by fire lighting up the gloom. Using wet peat he was able to douse the flames on himself. Looking down at the burning fuel running in rivulets in the black peat, and at the burning wreckage and his dead pals, with munitions exploding all around, he said "It looked as though I was in hell."
The first on the scene found Staff Sgt Anderson staggering around the crash site. When they asked him his name, the airman could only repeatedly answer "I'm from California. I'm from California."
They also found another man alive, though Flight Officer Frank Cser of New Jersey died in hospital less than twelve hours later.
By January 1945, Staff Sergeant Anderson was able to return to the US. He underwent plastic surgery in Pasadena and finally made it home to San Francisco two years after the crash. He died January 16th 1988.
Crew and passengers;
1st Lt Elmer D. Pitsenbarger – Pilot – killed
S/Sgt Curtis Anderson – Gunner – injured
F/O Jack M. Bliss – Navigator – killed
F/O Frank Cser – Bombardier – died of injuries 10.10.44
T/Sgt Presley E. Farris – Flight Engineer – killed
Cpl Charles T. Lowblad – Passenger – killed
2nd Lt James D. Nendel – Co Pilot – killed
S/Sgt Frank A. Villelli – Gunner – killed
Cpl Clarence S. Watson – Passenger – killed
T/Sgt Joseph W. Zwinge Jr – Radio Op – killed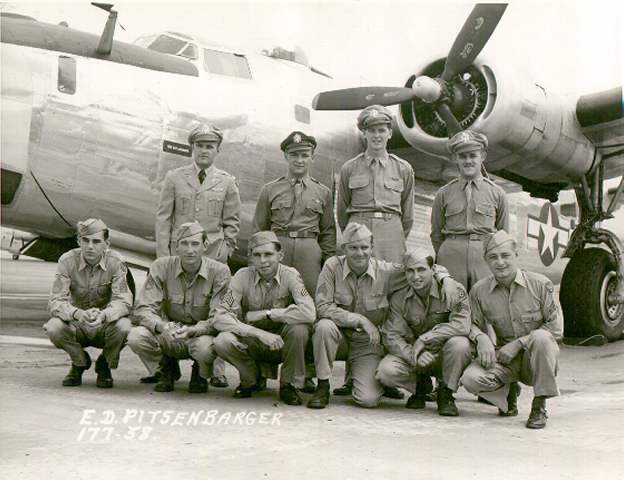 Eight of these ten men were on board 42-94841 at the time of the crash. This photo was taken in the US in May 1944 and naturally does not show the two passengers, Cpl Clarence S Watson and Cpl Charles T Lowblad.
Back Row (Left to right): Jack M. Bliss, Frank Cser, Elmer D. Pitsenbarger and James D. Nendel
Front Row (Left to right): Joe W. Zwinge, Presley S. Farris, Charles Anderson, C. McQuade (not in the crash), Frank A. Villelli and H. Steel (not in the crash)
The aircraft is a B-24J, 95911, named 'Lucky Strike'
Info from
32 Co Pilots by Charles R. Bastien (2004)
Peakland Air Crashes – the North by Pat Cuningham (2006)