Fairey Swordfish P4223
One of 4 new Fairey Swordfish bi-planes being flown from RAF Silloth on the Solway Firth to RNAS Ford, P4223 crashed on Black Hill in low cloud during the long flight south. Sub-Lieutenant Gerald V Williamson, Royal Navy, was killed in the crash, January 25th 1940.
It was over a month before the wreckage was spotted by a road worker clearing snow on the Holme – Woodhead Pass. According to Cunningham, John Davies trekked across the moor to investigate. Having alerted the authorities, an 8 man salvage party later set out from the Fleece Inn at Holme. However, this crew had not returned as night began to fall and another party had to set out into the vile weather to find them. Luckily they did. The original team had become lost in the blizzard and had wandered deeper into the moors.
Cunningham also says that the following year, injured Pilot Officer Hoddinot had survived a crash in his Lysander V9403 a few miles to the south east, but was trapped and waiting for help. He was frustrated to see a search aircraft circling the crash site of Swordfish P4223 instead, mistaking it for the Lysander and looking for survivors, and not spotting the wreck from which he and Leading Aircraftman Chadwick could not escape.
In the photo above (taken 2009) the Royal Navy Ensign had been attached to the centre of the cross but had fallen off. Propped up here by myself in order to take the photo, it needs supergluing back on.
Site revisit in January 2019.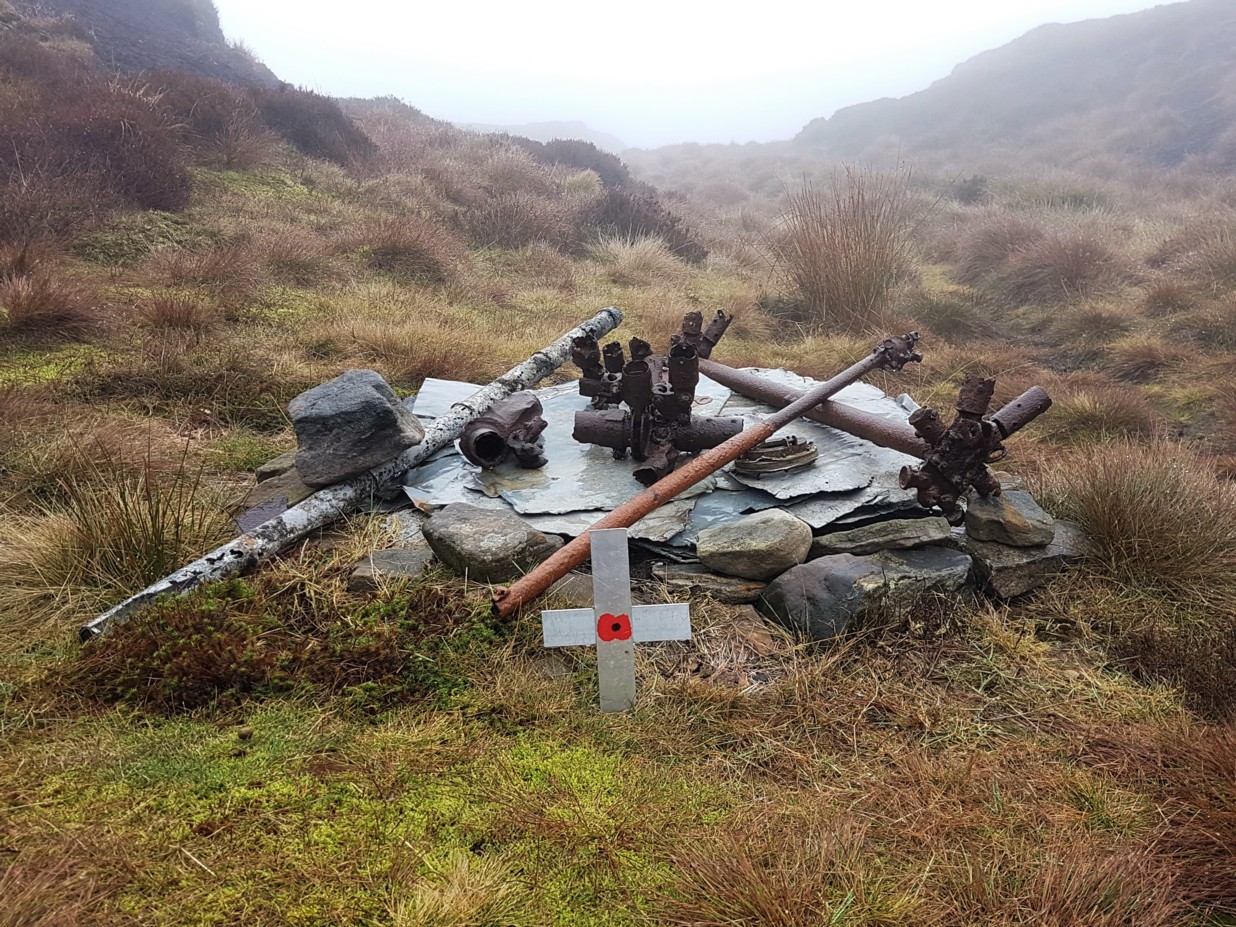 These three photos were taken February 2023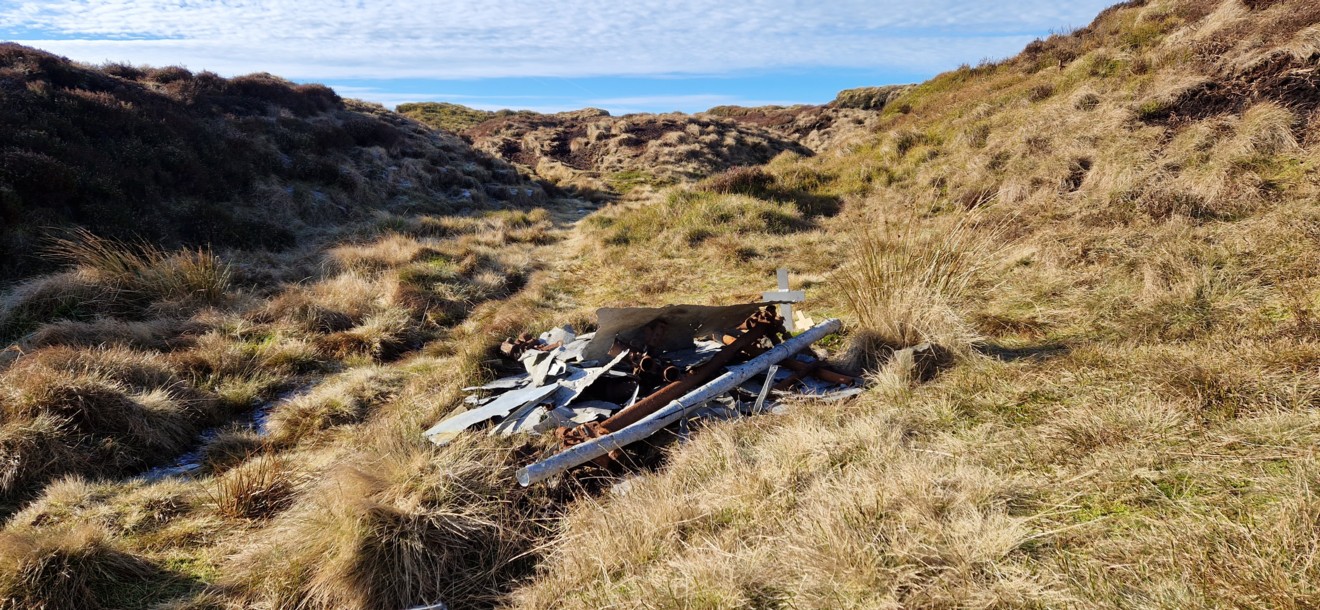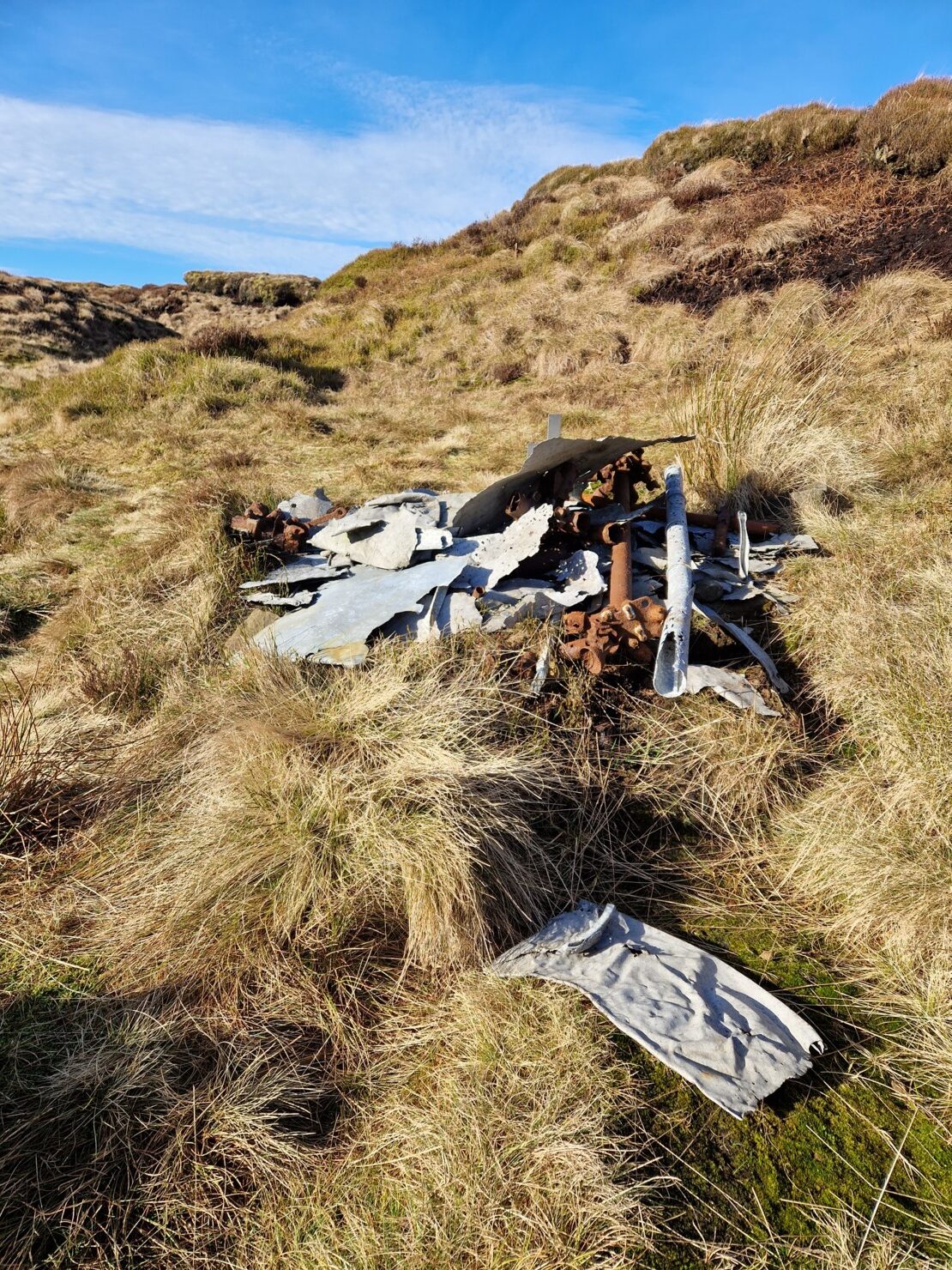 Photo of the Holme – Woodhead Road on andyholmfirth's photostream. It was while clearing snow from this road that road worker John Davies spotted the wreck of Swordfish P4223, over a month after it crashed. Sub Lt Williamson's plane crashed over to the left on the higher ground visible in this picture.
Photo of a Fairey Swordfish from wikipedia commons in which you can make out the struts still to be seen in the wreckage pile above;

references;
Peakland Air Crashes – The North (2006), Pat Cunningham