Avro Shackletons WG531 and WL743
This cross on top of Whittle Pike near Bury, Lancashire is a memorial to Flying Officer Geoffrey Molyneux who was one of 18 men killed while on an RAF exercise over the Irish Sea on January 11th 1955. F/O Molyneux was a navigator on Shackleton WL743
The cross was erected by a local Scouts group (Bury St Marks Senior Scouts) of which F/O Molyneux was a founder. Another plaque was added in 1992 above the original.
The circumstances of the loss of two Avro Shackletons are unknown. They left RAF St Eval in Cornwall on separate exercises after 10am but for various reasons ended up taking off just a few minutes apart and heading for the same area on a patrol and search exercise over the Irish Sea.
By 8pm however, when both pilots F/O Board and P/O Wood made their hourly radio reports, there was the prescribed 85 miles between the two aircraft.
At just before 9pm P/O Len Wood in WL743 radioed in again and after that nothing was heard from either Shackleton.
Amid various theories, the Board of Inquiry deemed the most probable cause of their disappearance was that they were both in the same target area at the same time and, unlikely as it may seem, crashed into each other.
Despite a 3 day search, no trace of either aircraft was found. 11 years later one of WL743's engines was caught in the net of a trawler fishing off the south west of Ireland.
CREWS and AIRCRAFT
Shackleton WL743
Pilot Officer L W Wood L (Pilot)
Sergeant H Davies (Pilot)
Flying Officer N Horrocks (Navigator)
Flying Officer G Molyneux (Navigator)
Sergeant D Male (Air Engineer)
Master Signaller I O Cathcart (Air Signaller)
Sergeant C W Scott (Air Signaller)
Sergeant R E Ridgers (Air Signaller)
Sergeant L W Cooper (Air Signaller)
_______________________________________________________________
Shackleton WG531
Flying Officer G Board (Pilot)
Flying Officer K G Richards (Pilot)
Flying Officer G Rogers (Navigator)
Flying Officer BH Webb (Navigator)
Flight Sergeant M G Rae (Air Signaller)
Sergeant L R Swann (Air Signaller)
Sergeant J T Goodwin (Air Signaller)
Sergeant EJ Morgan (Air Signaller)
Sergeant G Thompson (Air Engineer)
The photo below of Shackleton WG531 was provided by Paul Ridgwell and used with his kind permission. Paul believes the photo was taken at Farnborough and as WG531 was only there once, the photo will have been taken in 1952. There is no date on the photo, nor anything to identify the photographer.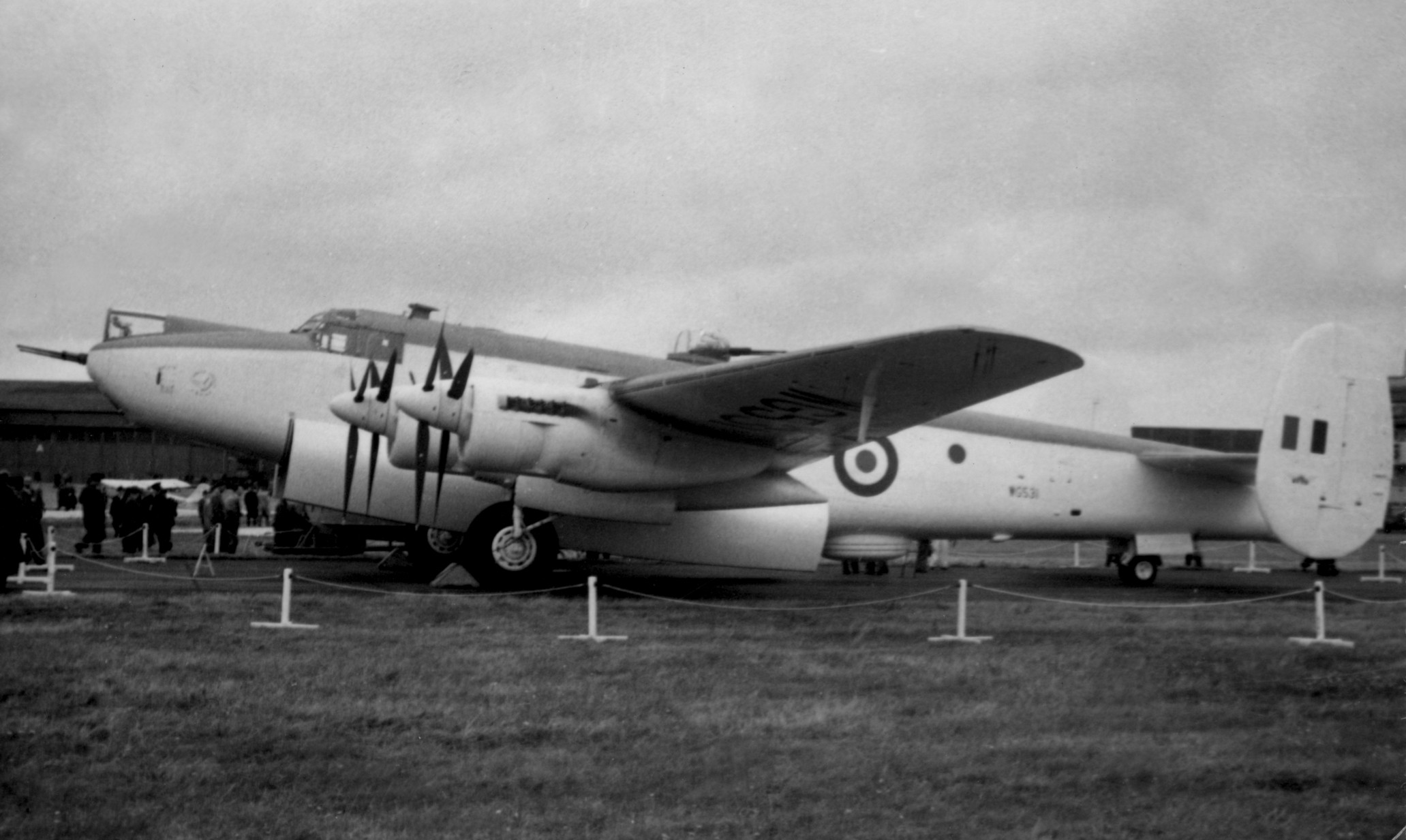 __________________________________________________________________________
This 42 Squadron page has some moving photos of the memorial service and of a Shackleton dropping a wreath in memory of the lost crews.
Unfortunately I cannot recall where I downloaded the aircraft photos from. If you are the owner of either or both, please contact me and I will add a credit or replace the photo with another.